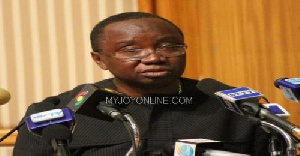 A former National Security Minister under the Jerry John Rawlings's administration, Kofi Totobi Quakyi, has described as "traitors" persons who have counselled President Nana Akufo-Addo on the Ayawaso West Wuogon by-election violence.
The former minister has also condemned the incidents of violence which occurred at the residence of the NDC candidate, Delali Kwasi Brempong, and the La Bawleshie Presby School Polling Station last Thursday during the by-election.

In an open letter to the President, Mr Totobi Quakyi insisted the conduct of the government and that of the Electoral Commission betrays the president's legacy.

He insists that any calculated attempt by the government to deceive the Ghanaian public on the true state of the matter will not augur well.

"The ongoing attempt to gaslight the Ghanaian public will not wash, and it is also terribly short-sighted and myopic. Those of your counsellors who are making a public mock, of the intelligence of the Ghanaian people – delighting in the recent events and fostering thoughts of repetition – betray your good name and are traitors to your legacy. The indignation of your appointed Electoral Commissioner about the seriousness of the situation only serves to stoke the…" parts of the letter read.

As a former minister of the National Security, he says the conduct of the men – who the Minister of State in charge of National Security, Bryan Acheampong, claims are his – was unprofessional and should be brought to book.

He advised the president to listen to the many calls for an independent judicial investigation to be conducted into the matter and do the needful for the sake of posterity.
Below is the full letter: