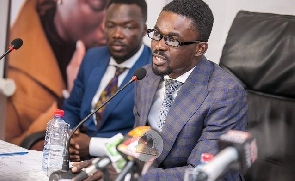 Having come under fire for a post he made on the late Ebony Reigns, Chief Executive Officer of Zylofon Media, Nana Appiah Mensah has sought to clarify issues regarding the content of his post while stating unequivocally that the criticisms from a section of the public "were characterized by emotions than critical reasoning."
In an attempt to pay tribute to Ebony, Nana Appiah Mensah tweeted, "We had a fruitful meeting and reached an Agreement just last Tuesday. "Please help me pay him for my bailout. I want to be free". I hope you're free now & finds absolute peace in the bosom of the almighty God. Let's pay CRITICAL ATTENTION to our female artists.#RIPEbony

His post sparked an outrage as some critics described it as unfortunate and unwarranted, citing timing as the reason for their stance. Some also argued that his post somewhat puts RuffTown Records, the label Ebony was signed on to, in a bad light, abrantepa.com observed.

But speaking on Zylofon FM, Monday, the businessman said the tweet was not misplaced. According to him, although he accepts criticisms, people failed to implore critical reasoning with respect to his post on Ebony.

"I am not beyond criticisms. I recognize and accept the criticisms whether good or bad except that most of the comments I have sighted missed the issues and were direct verbal assaults which I take strong exceptions to and would want to discourage in our Ghanaian society… I can, however, pardon these social commentators as clearly their comments were ignorantly characterized by emotions rather than critical reasoning," he noted.



NAM1 as he is affectionately called however stated that he cares less about the criticisms.
"Comments and what have you cannot break me and cannot disturb or perturb me from achieving my mission. It's a forward match….The road to freedom is rough and rugged. It's a long road…Even Jesus Christ, people spat on his face and he had to die…" he said.

Defending how he wove his post, Nana Appiah Mensah said it was based on the Ghanaian culture.

"Things said to the departed fellow are based on the experience one has had with the fellow in question. Mostly, it is based on the last encounter you had with the departed fellow. This same principle is exactly what I based my tribute on," he pointed out.

"Yes, I had a meeting with Ebony on Tuesday and sadly, that was the first time we met and last time we spoke. It was a possible signing discussion with an artiste which is the first stage to determine the artiste`s interest or otherwise.

"In our discussion, she emphasized and it was agreed that before she goes out of the contract, she has to satisfy a termination clause in the contract by paying her record label Ruff Town Records an amount of USD$100,000 of which Zylofon Media was ready to fulfil. That was what she termed as a bailout and there was no way we could do that without reaching out to Ruff Town Recordz.

"The citing of the quotation was my expression of pain, over the fact she had a WISH of which she couldn't wait to be fulfilled. Just as others are expressing worry over her purported wish to pick up awards.There's nothing wrong in stating that, she had this wish or that wish and hoping that wherever she is, she finds fulfilment".