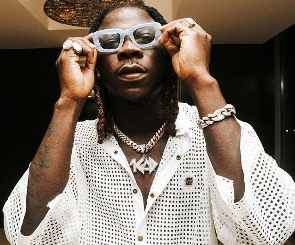 Stonebwoy's manager, Chief Stylz, has responded to Shatta Wale's allegations and rants about his artiste, following the clash of their December concerts.
On Tuesday, Shatta launched a scathing attack at Stonebowoy for what he described as deliberately scheduling his annual BHIM Concert at the same venue and around the same time as his Freedom Wave Festival.

According to Shatta Wale, 'instructions from above' have forced him to give up the Accra Sports Stadium for Stonebwoy to hold his concert even though he announced and booked the venue first.

"I sat down with my team and I was like, let's start doing promos because I got calls from outside Ghana and everyone wants to come and enjoy the 360 events. I've got fans from Germany, London, Qatar, Dubai and America, shout out to them. They are all sending me messages that this year, they want to come and support for it to look good. As we just put out flyer, Stonebwoy dems go put out flyer that they are also doing their show on the 22nd. No problem, the stadium, eno be my father ein own, eno be ein father ein own. I gave Sammy money to book the venue and all of that. As we come announce that we get festival and the lineup of things we dey come do, that be when Stonebwoy too wan do show 22nd.

"It is something we do every year, and as we're preparing to do it this year, we need days to set up. That is why I am making Afronation as an example. Afronation need weeks to set up anytime they have a concert. We dey Ghana, we dey see demma preparations towards the Afronation festival. Then someone came to pick a date within our set up. Ask yourself, are you thinking? Then they'll come and tell us that the President's daughter gave the orders. How did they call the president's daughter and how did they get her to make such a decision. Very stupid!' he angrily expressed in pijin and English.

However, Stonebwoy's manager has labelled Shatta's claims as merely blatant lies meant to seek public sympathy.
According to him, Shatta Wale is rather suffering from the consequences of trying to manipulate people into getting Stonebwoy's show canceled.

Narrating his side of the story, Chief Styles said Stonebwoy initially fixed 23rd December as the date for the BHIM concert but was compelled to shift it backward to the 22nd, to enable a three-day window for Shatta to prepare for his concert.

He said Shatta, who was still displeased with the development resorted to some underground means of getting Stonebwoy's show completely canceled by involving the Director of Operations at the presidency, Lord Commey, and other officials.

Stonebwoy's manager said Shatta's orchestrations with higher powers rather blew up in his face.

"Sociopathic pathological liar! Stop throwing dust in the eyes of people to win sympathy. You know the truth, say it and set yourself free. You are bitter just because your underground efforts and incessant pressure through Lord Commey and others to get Prof not to allow Stone to hold his concert failed.
"Even after he changed the dates from 23-22nd for you to have three days clear before your concert. 25th is set and is still clear for you. Stop lying my guy," he wrote on his Instagram stories.

See the post below:


Shatta Wale was trying to use the Ga Caucus to make sure this year's #BhimConcert23 doesn't hold as scheduled.

Knowing very well his Team had no clue on how to go about securing the venue because of their inability to pay debts owed to the management at the Accra Sports Stadium. pic.twitter.com/BhSH8QMLP0

— Bhim FanPage (@BhimFanPage) September 20, 2023
Click here to start the nomination process for the 2023 GhanaWeb Excellence Awards

Ghana's leading digital news platform, GhanaWeb, in conjunction with the Korle-Bu Teaching Hospital, is embarking on an aggressive campaign which is geared towards ensuring that parliament passes comprehensive legislation to guide organ harvesting, organ donation, and organ transplantation in the country.

EB/BB