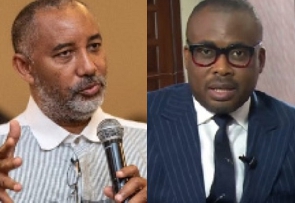 Alex Mould, a former Chief Executive Officer of the Ghana National Petroleum Corporation (GNPC), has slammed the broadcaster Paul Adom-Otchere for saying that his recent criticism of the Akufo-Addo government is because he (Mould) wants to become the vice president of Ghana.
Paul Adom-Otchere, during his Good Evening Ghana programme, on Thursday, February 9, 2023, said that Alex Mould has uncharacteristically been loud in the media because he is positioning himself to be the running mate of presumptive NDC flagbearer, John Dramani Mahama.

"When it comes to Mahama, people are saying that you have forgotten about Alex Mould, can't you see that these days he is taking a lot? Alex Mould did not use to be like that, he is a corporate smart shy guy, he does not do media.

"Even when he was doing politics, hardly did he grant interviews. But these days he is talking because he wants to get himself in the mode of the vice president… people supporting Alex Mould are saying that Mahama must choose Alex Mould," Adom-Otchere said.

Reacting to this in a series of tweets shared on Friday, February 10, 2023, Aloud Mould said that the suggestion by the broadcaster is just a mischievous attempt to divert attention from his criticism of the government on its Gold-for-Oil policy.

The former GNPC boss vowed to expose the government on the Gold-for-Oil policy which he described as a ploy by some persons in the Nana Addo Dankwa Akufo-Addo government to steal from Ghanaians.
"Paul, I'm sure the objective of your skit yesterday was to divert attention from the repackaged Agyapa G4O program I have been talking about. My focus has always been and will continue to be the exposure of STATE CAPTURE heists by PEOPLE close to the PRESIDENCY. G4O is a ruse!

"They should come again. The people behind this deal want to milk the state dry. We won't sit and watch unconcerned. Your mischief will not stop me from exposing your government!! Good Evening Ghana Official," parts of the tweet read.

View the tweets plus a video of Adom Otchere's remarks below:


They should come again. The people behind this deal want to milk the state dry. We won't sit and watch unconcerned. Your mischief will not stop me from exposing your government!!

Good Evening Ghana Official

— Alex Mould (@alexkmould) February 10, 2023
You can also watch this edition of People & Places on GhanaWeb TV:



IB/BOG