Your selfish gains are disrespectful to the party - Henry Osei Akoto calls out NDC MPs over 'betrayal'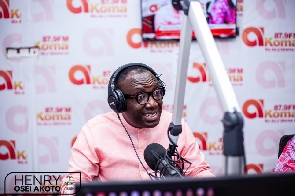 A stalwart of the National Democratic Congress (NDC), Henry Osei Akoto, has described the turnout of votes by the Members of Parliament on the Minority side of parliament as a disrespect to the party.
According to him, the fact that the earlier decision by the leadership of the party, which was also communicated to the MPs, to not approve the six nominees of President Nana Addo Dankwa Akufo-Addo for some ministries, was flouted, is tantamount to a stab in the back.

Sharing his thoughts in a tweet, the former NDC parliamentary candidate for the Oforikrom constituency said that it is clear the decision of the MPs, which saw an outright majority acclamation of the appointments, was borne out of selfishness.

"It is disrespectful to the party, from the grassroots to the top and to the President @JDMahama for the party which put you in Parliament to issue a directive and you go and short-change everybody because of selfish gains," he tweeted.

Henry Osei Akoto is not the only one who has openly spoken about the shock of the results of the secret voting in parliament on Friday, March 24, 2023, on the report of the Appointments Committee of Parliament.

The report, which was inconclusive about the nominations of the six ministerial nominees, was put to a vote by the Speaker of Parliament, Alban Bagbin, after there was no consensus.

Although the NDC MPs have stated on several occasions, including during debates ahead of the vote, that they would reject the nominees because the government needs to rather downsize, when the results were declared, it showed a sharp contrast.

The MPs for Madina, Tamale North, and North Tongu, Francis-Xavier Sosu, Alhassan Sayibu Suhuyini, and Samuel Okudzeto Ablakwa respectively, have also put out cryptic messages to this effect.

The House also approved the nominations of two Supreme Court justices.

The leadership of the NDC is yet to issue a statement on the outcome of this vote.
See Henry Osei Akoto's tweet below:


It is disrespectful to the party, from the grassroots to the top and to President @JDMahama for the party which put you in Parliament to issue a directive and you go and short-change everybody because of selfish gains.

— Henry Osei Akoto (@HenryOseiAkoto_) March 25, 2023
This is how the MPs also voted on the day for the ministers:
Total eligible 275
Absentees = 3
Total valid votes = 272
Hon KT Hammond, Minister for Trade and Industry
Yes = 154
No = 116
Rejected = 1

Abstention = 1

Bryan Acheampong, Minister for Food and Agriculture

Yes = 167

No = 98

Rejected = 1

Abstention = 3

Stephen Asamoah Boateng, Minister of Chieftaincy and Religious Affairs

Yes = 147
No = 122

Abstention = 3

Mohammed Amin, Minister of State at the Presidency

Yes = 152

No = 117

Rejected = 1

Abstentions = 2

Osei Bonsu Amoah, Minister of Local Government and Decentralization

Yes = 149
No = 120

Abstentions = 2

Stephen Amoah, deputy minister of Trade and Industry

Yes = 146

No = 123

Abstentions = 3

You can also watch this episode of People & Places on GhanaWeb TV here:



AE/FNOQ