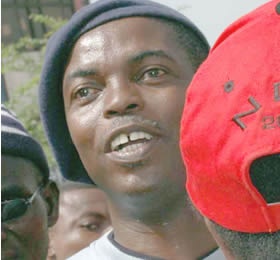 Mon, 10 Apr 2006 Source: Searchlight
President Kufuor is a real man - Kwabena Adjepong
The Managing Editor of the Insight, Kwesi Pratt, has said that our presidents and leading political figures would be well advised to keep their zips up, since this would go a long way to keep them out of trouble.

He has also said that he was appalled to hear a flippant comment by the Spokesperson to President John Agyekum Kufuor, Mr Kwabena Agyapong, to the effect that if the President has twin children with someone outside his marital home, it would only show that the President is a real man.


?In fact, if I were the President, I would have fired my spokesperson,? said Mr. Pratt.


Mr Kwesi Pratt was speaking on an Accra based radio station on Saturday on the programme Alhaji and Alhaji. He was commenting on the never-ending saga of Hotel Kufuor/Gizelle Yajzi, which is currently a subject of investigation by the Commission for Human Rights and Administrative Justice (CHRAJ).


Ms Yajzi has accused the President of using his son as a front to acquire the infamous Hotel Kufour but CHRAJ has refused to invite her in its investigations into he matter with the excuse that it is only conducting preliminary investigations.


Referring to the conditions under which Ms Yajzi, a former Economic Advisor to the Minister of Finance and an alleged paramour of President Kufuor, Mr Pratt suggested that she was excessively pampered.


?You give that kind of protection to somebody who is an Economic Advisor to the Minister of Finance. She is more protected than her boss is. What threat did she face, warranting that kind of protection, I don?t know!? Mr Pratt said.

He said that with Gizelle Yajzi, the matter at issue was very simple indeed.


?Is it necessary or was it necessary, for the Commission for Human Rights and Administrative Justice, to make efforts to listen to her, even in their preliminary investigations?? he asked.


Mr Pratt said that the Commission itself has said that it has listened to Chief Kufuor, or his counsel, and has listened to counsel for the President. He said that indeed the President has been boasting that he has submitted himself to CHRAJ, because his counsel is representing him.


Mr Pratt then wondered how the Commission can ask the President and his son Chief Kufuor anything when it has not listened to their accuser in the person of Gizelle, who is alleging that Chief Kufuor is fronting for his father in the acquisition of the infamous landmark hotel.


?If you don?t listen to the accuser, how do you then proceed to listen to the accused?

Source: Searchlight