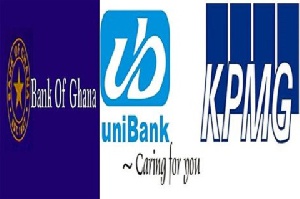 The Bank of Ghana on Tuesday announced the takeover of Unibank with KPMG as the new official administrator for the bank.
Governor of the Central Bank, Dr Ernest Addison, cited a number of challenges, including the concealment of liabilities on the balance sheets of Unibank by managers of the bank.

"UniBank's problems are part of the legacy issues in the financial sector attributed to weak economic growth and poor corporate governance and risk management practices.

"It will be recalled that UniBank was one of nine banks identified after the asset quality review exercise undertaken in 2016, to be significantly undercapitalized with a CAR of 4.75%," a statement from the Bank of Ghana said shortly after the official announcement.

KPMG, announced as administrators of the Bank will have six months to manage the bank after which it will revert to an unnamed private organization, the statement said.

Madam Elsie Addo Awadzi, 2nd Deputy Governor of the BoG disclosed in an interview on Peace FM's morning show 'Kokrokoo' that Unibank's challenges started two years ago after an investigation conducted by the central bank.
They then came up with a plan to recover themselves and increase its Capital Adequacy Ratio (CAR) which according to the BoG was below the required minimum of 10%.

"The issue of Unibank was realized in 2016 after BoG conducted an investigation and discovered that some of the banks' capital was falling. They were given time to fix their challenges but after some time we realized their capital was not going up. Even though they tried, we had to come in because there was no improvement. We were giving them loans to recover their debt and even that couldn't help; they couldn't pay us back" leading to the current situation.



Ripple effect of ADB takeover

Few weeks ago, Unibank announced a purported takeover of ADB after some shareholders of the latter, pledged their shares in the bank.
The BoG came in immediately to dismiss the reports explaining that it had not approved any such agreement between Unibank and ADB.

It therefore came as a surprise when the central bank announced that Unibank was being taken over by BoG.

Madam Awadzi was therefore asked if the current takeover was because Unibank announced a takeover which had not been sanctioned by the BoG.

However, she denied those claims indicating that Unibank's problems started before the ADB takeover announcement.

"When we heard of the takeover (Unibank/ADB), we invited them and after going through their plan, we realised they were still having problems. Their capital was low, they suffered liquidity shortfalls and consistently breached its cash reserve requirement and so on...so we advised them that the takeover will not help them".


More banks on the verge of collapse

If you may recall, after the collapse of two Ghanaian-owned banks, UT Bank and Capital Bank, reports emerged that eight more banks were facing imminent collapse.

Deputy Finance minister, Kwaku Kwarteng indicated that there are more banks deemed as distressed.

Even though he did not mention those banks, he said "...in respect of the other banks that are distressed to varying extent, the BoG will monitor them closely and step in as soon as it appears to the BoG that the interest of depositors and other participants are threatened".
These banks according to the Second Deputy Governor of the BoG are now having a good standing.

"those banks came up with measures to save their bank… at the end of last year (2017) they have all completed with whatever they needed to do and so far, there's no problem. Unibank also brought their plan but it couldn't materialize and that led us to the current situation. But the other banks are fine and they are all working efficiently under the supervision of Bank of Ghana" she stated.