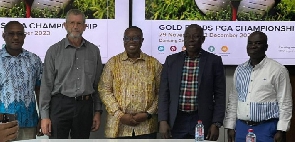 The tenth edition of the Gold Fields PGA Golf Championship has been launched with organizers promising nothing but a thrilling contest worthy of a celebration of a decade-old of golf promotion in the country.
At the launch held on Friday, November 17, 2023, the organizers announced that measures to deliver a remarkable tournament are in place with the cash prizes witnessing a significant increment on previous editions.

It was disclosed that the competition will kick off on November 29 and climax on December 2 at the Damang Golf Course in the Western Region.

In recognition of the significance of this year's PGA Golf Championship, the number of competitors has been extended with 33 Ghanaian pros and nine pros from neighbouring Togo and Ivory Coast, Nigeria and Zimbabwe expected to participate.

Additionally, 18 senior pros, including 17 Ghanaians and one Nigerian, have been invited to participate in the competition.

The total cash prizes of the 10th edition have skyrocketed to GHC385,000 with the winner of the regular pro contest winning GHC80,000. The senior pro champion will receive GHC25,000 which is GHC5000 more than the 2022 edition.

Owing to the uniqueness of this year's edition, Joshua Mortoti, the Executive Vice President and Head of Gold Fields West Africa disclosed it will have female golfers who dream of professional golfing careers participating in the contest.
Owing to existing PGA rules, the women who will be competing for over three days will not receive cash prizes but Joshua Mortoti assures that measures have been instituted to ensure that they enjoy the tournament and gain some experience that will spur their career.

Joshua Mortoti highlighted the consistent commitment of GoldFields to the promotion of golf in Ghana which has seen them invest over $700,000 in the sport since 2014.

Ahmed Pandori, the tournament's director believes that the prize money and the prestigious nature of the competition will push the golfers to give off their best during the tournament.

He stated that Ghana's celebrated golfers like Vincent Torgah, Emos Korblah, Lucky Ayisah, and Francis Torga are pumped up for the competition.

He commended the media as well as other sponsors for their consistent support for the tournament.