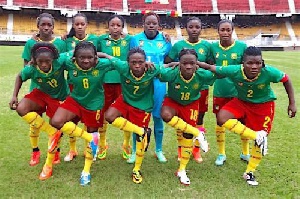 Cameroon's Madeleine Ngono Mani has set her sight on winning her country's first Africa Cup of Nations title at her seventh attempt.
The Indomitable Lionesses all-time leading scorer has been included in a 21-woman squad for the finals in Ghana.

The 35-year-old forward first competed at the continental event in 2002.

"Being the most experienced and capped player in the team, my role is to lead, motivate the younger players on the pitch," the ex-Guingamp player said.

"I also need to score goals because we want to win the tournament this year."

Mani, who now plays in France for Albi Croix, has also finished as a runner-up in both 2014 and 2016 and Cameroon also lost in the 2004 final.
Cameroon are set for an enthralling tussle in group A alongside host Ghana, Mali and Algeria.

The Lionesses deputy coach and former skipper Bernadette Anong has admitted the technical staff had a nightmare picking the final 21 players.

"After 3 failed attempts we understand that the fans are now impatient but there's a great atmosphere within the team," Anong explained.

"We have two objectives, win the nations cup and qualify for the world cup.

"We had 25 players in camp, very talented and experienced and when you have so many skilful players it is always tough choosing 21"
"The girls haven't gotten over the defeat to Nigeria 2 years ago in the final and this year we believe with the numerous warm up games and training camps, we'll be able to win the Nations Cup."

The squad for Ghana includes 14 players who competed at the 2016 tournament on homesoil.

The 2015 African Women's Player of the Year Gaelle Enganamouit and the best player from the last Nation's Cup Gabrielle Aboudi Onguene are both set to star again.

Cameroon can also look to in-form Sweden-based striker Ajara Nchout who has 15 goals and 6 assists in 19 games for her club IL Sandviken.

"In my club I'm having a great time and I think I can have a similar influence with the Lionesses," Nchout told BBC Sport
"I just want to go on the pitch, score goals and make the fans very happy."

Paris FC attacker Michaela Abam has been handed her first call up, but teenage sensation Mpeh Bisong and former Besiktas striker Ada Jackette both miss out.

The Indomitable Lionesses fly to Abidjan, Ivory Coast for a training camp before their first group clash against Mali on November 17.

Cameroon then play Algeria on November 20 before wrapping up the group stages with a clash against hosts Ghana three days later.

Cameroon squad for Women's Africa Cup of Nations:
Goalkeepers: Annette Ngo Ndom (FAP Amazone), Diane Ndeme Bayegla (Caiman FC), Marthe Ongmahan (Awa FC)

Defenders: Christine Manie (Nancy, France), Marie Awona (Dijon, France), Augustine Edjangue Siliki (Santa Theresa, Spain), Claudine Meffometou (Guingamp, France), Yvonne Leuko (Strasbourg, France)

Midfielders: Raissa Feudjio (Alan United, Finland), Genevieve Ngo Mbeleck (Huelva, Spain), Grace Ngock Yango (Saint Malo, France), Francine Zouga, Marlyse Ngo Ndoumbouk (both of Nancy, France), Therese Abena (Louves Minproff), Michelle Akaba (Besiktas, Turkey)

Attackers: Madelaine Ngono Mani (Albi Croix, France), Gaelle Enganamouit (Avaldnes, Norway), Gabrielle Aboudi Onguene (CSKA Moscow, Russia), Michaela Abam (Paris FC, France), Charlene Meyong Menene (Louves Minproff), Nchout Njoya Ajara (IL Sandviken, Sweden)