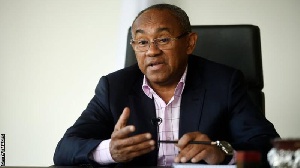 A powerful delegation from the Confederation of African Football (CAF), led by its president, Ahmad Ahmad are expected in Accra, the capital of Ghana on Saturday, for the draw for the 11th Total Women's Africa Cup of Nations (AFCON) on Sunday.
The Women's AFCON is the flagship of women's football on the continent and the Executive has shown much interest in hence their presence for the draw which will be at the Kempinski Hotel, Gold Coast City.

The event is also an important part of the countdown to the tournament and it is expected to attract much attention after months of uncertainty of the tournament taking place in Ghana.

Indeed, over the past two months, things have moved very fast with regards to preparation, and the draw on Sunday will set the battle lines for the competition slated for November 17 to December 1, with matches slated for the Cape Coast and Accra Stadia.

All week, an operational team from CAF, led by Deputy General Secretary in charge of development and football, Anthony Baffoe, has been in Accra, first for the final inspection of the facilities for the tournament, and then prepare for the draw on Sunday.
Apart from the CAF Executive, all the federation heads and officials of the teams that have qualified -- Nigeria, Cameroun, South Africa, Mali, Kenya, Algeria, and Zambia -- will also be in attendance.

Mr. Kofi Nsiah, the Chief Operating Officer of the Local Organising Committee (LOC) told the Graphic Sports online that all was set and the presence of the strong CAF team in Accra was indicative of how close the tournament was getting.

'Practically, the competition has started as we are now going into the final details with the organisation. Once the draw is held on Sunday, the official countdown begins,' Mr. Nsiah said.

After the draw on Sunday, the representatives of the seven teams will visit the various training facilities and hotels designated for them.