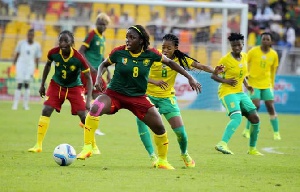 Cameroon midfielder Raissa Tchuanyo says the pressure will be on Ghana when the two teams clash in the final Group A fixture of the 2018 AWCON on Friday.
The Black Queens are in desperate need of a win against the tournament favourites to have any chance of progressing to the semi-finals.

Contrary to what Ghana coach Bashir Hayford believes, midfielder Tchuanyo says the pressure will rather be on Ghana to secure the win before their home fans.

"Ghana is a football nation and you can't take that away from them," she said.
"We played them last time and it was tough but we won.

"The pressure will certainly be on Ghana but we are focused on getting the result for ourselves."