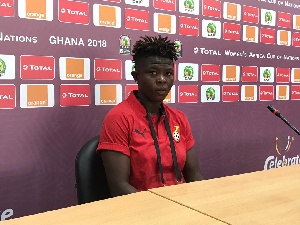 Midfielder Priscilla Okyere believes the Ghana team has overcome its fears of enormous pressure from the home fans at the ongoing 2018 Africa Women's Cup of Nations.
The Black Queens were a bundle of nerves in their slim 1-0 win over Algeria in their opening group game.

Coach Bashir Hayford's side, as a result, made several mistakes especially in attack to spur several golden chances.

Ghana thus missed the opportunity to record a much more convincing win against Algeria – creating doubts of their title credentials this early in the tournament.

But midfielder Priscilla Okyere feels the team is now better equipped to deal with the weight of expectations from the home fans going into their second group game against Mali on Tuesday.
"We've overcome the pressure on us," she said.

"Ghanaians were expecting so much from us in the first game and it got us eager to score.

"We are very appreciative of this support and I'm sure we will do better in the next game."

Ghana will seal qualification to the quarter finals of the tournament if they win against Mali even before they play their final group game against Cameroon on Friday.