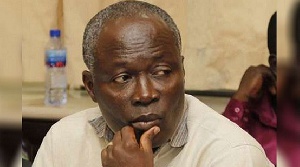 Mon, 27 Nov 2017 Source: GNA
The former Minister of Youth and Sports, Mr. Edwin Nii Lante Vanderpuye, has expressed disappointment with the government's 2018 budgetary allocation for sports.
According to the former minister, "this government does not intend to spend on sports development in this country".

The former minister who is a Member of Parliament for Odododiodio constituency made this known on the floor of Parliament when he was reviewing the 2018 policy and budgetary allocation for sports.

Mr. Vanderpuye said sports is an important vehicle that mobilises and brings people together for nation building regardless of individual differences, hence the need for governments to be serious about its growth.

He said the country lack quality sports infrastructure and was surprised that the 2018 budget did not mention anything about sports infrastructure development, adding that the sector cannot grow without the needed infrastructure.

He cited examples of how some infrastructure establishments by the previous government, had boosted sports in recent times.

"The government of NDC under President John Dramani Mahama with focus on sports infrastructure made efforts to commission Cape Coast Stadium and also got Social Security and National Insurance Trust (SSNIT) in a Public Private Partnership to build the Trust Sports Emporium in my constituency.
"This emporium has all of a sudden ballooned the interest of people in boxing that almost every month Ghana's boxing is on international channels. That should tell you what a sports infrastructure will do to spur up the development of sport in the country." He stated.

According to Mr Vanderpuije, the 2018 financial budget did not reconcile with the government's policy on economic and social development for the country.

"If the government has drawn out a clear-cut policy in this book (economic and social policy document) then I would expect that the financial policy of the government which focuses on Youth and Sports would have a bearing on this.

"But there are variance, you can really see the linkage between the economic and social policy document and the budget presented to this house." He stated.

He urged the government to cut other expenditures to realign to the development of sports infrastructure in other to give the country chance to host international tournaments as well as improving sports.
Source: GNA