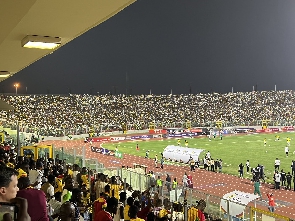 National Sports Authority (NSA) has announced a significant reduction in ticket prices for the upcoming Africa Cup of Nations qualifier between Ghana and Angola on March 23, 2023.
Compared to the pricing strategy for the World Cup playoff against Nigeria in March 2022 (which was the last time the Black Stars played in Kumasi), the rates have been lowered considerably.

The VIP yard ticket and VVIP box will be sold for GH₵50 and GH₵70, respectively. For those on a tighter budget, popular stand tickets are available for only GH₵20.

Even the wings and centerline tickets will be sold at a more affordable rate of GH₵50 and GH₵30, respectively. This pricing strategy aims to encourage more fans to attend the match at the Baba Yara Sports Stadium in Kumasi.
The match against Angola holds significance as it will mark Chris Hughton's debut as head coach of the Black Stars. Hughton was recently promoted from the technical advisor role and is eager to lead the team to victory in his first game in charge.

The NSA's decision to reduce ticket prices for the upcoming match has been met with positive feedback from football enthusiasts across the country. With more affordable ticket rates, it is expected that the stands will be filled with passionate Ghanaian supporters on March 23.