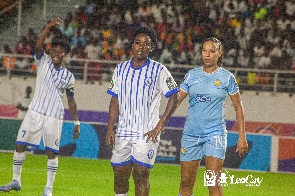 In the 2023 CAF Women's Champions 3rd place final, Ampem Darkoa Ladies, the Ghanaian champions, suffered a disappointing 2-0 defeat at the hands of AS FAR.
Despite having emerged victorious with a 2-1 scoreline against AS FAR during the group stages, the Ghanaian side couldn't replicate their success in the crucial encounter on Saturday evening.

This defeat means Ampem Darkoa Ladies narrowly missed out on securing a coveted 3rd place medal in the prestigious tournament.

Ghanaian attacker Mafia Nyame ignited AS FAR's triumph, netting the first goal in the 33rd minute, setting the tone for their victory.
Ghizlane Chebbak sealed the fate of Ampem Darkoa Ladies with a second goal in the 45th minute, leaving the Ghanaian champions with no room for a comeback.

Adding to the twist of the match, Ghanaian defender Blessing Shine Agbomadzi made an appearance on the side of AS FAR. She entered the field in the 60th minute, replacing Nouhaila Benzina, further complicating the narrative of the encounter.

Ampem Darkoa Ladies will likely return to Ghana on Sunday afternoon.