2024 Olympic Games qualifiers: Black Queens captain Portia Boakye confident of victory in second leg against Guinea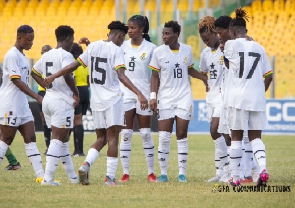 The Black Queens' skipper, Portia Boakye, has expressed the team's determination ahead of the second leg of their first-round 2024 Olympic Games qualifier against Guinea on Tuesday.
Despite holding a comfortable 3-0 advantage from the first leg, Boakye emphasized that the team will play for victory in the match at the Accra Sports Stadium.

The Ghana women's national team exhibited their prowess in the first leg in Conakry, securing a resounding 3-0 victory with goals from Vivian Konadu, Doris Boaduwaa, and Evelyn Badu.

Buoyed by the impressive first-leg performance, the team completed their final training session on Monday evening, with all 23 players participating to fine-tune their preparations ahead of Tuesday's fixture.
Addressing the media before the training, Black Queens captain Portia Boakye assured Ghanaians of their intent to secure another victory on home soil.

"As my coach [Nora Hauptle said], we can't promise any goals because if we do and we don't get them [Ghanaians will come for us]," she said.

"[But] of course, we will score Guinea. We are winning the game tomorrow because myself and the other players are ready."