2024 Olympic Games qualifiers: Black Queens coach Nora Hauptle backs players to brush aside Guinea today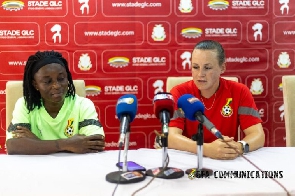 The head coach of the Black Queens of Ghana, Coach Nora Hauptle is confident her side will beat Guinea today.
The women's senior national team of Ghana will take on their counterpart from Guinea today in the first meeting of the first round of the qualifiers for the 2024 Olympic Games in Paris, France.

Speaking in a pre-match press conference on Thursday, July 13, Black Queens coach Nora Hauptle indicated her side is prepared for the encounter.

According to her, every player knows her task and the team will play to secure a win in the game today.
"We have different task given to the players. Everybody has a role, positioning, and game plan that they need to stick on. I demand my players mostly to work with cohesion, support each other and fight for each other," Coach Nora Hauptle said.

The Black Queens coach added, "These are the tasks and they know what to do for a sure win tomorrow."

The match between Guinea and Ghana kicks off at 16:00gmt at Stade de Generale Lansana Conte.