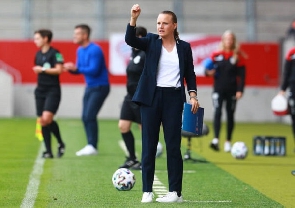 Head Coach of the Black Queens, Nora Hauptle, expressed her satisfaction with the qualities displayed by both the home-based and foreign-based players, stating that it has made her work easier.
The Ghana women's national team is gearing up to face Guinea in the crucial second leg of their 2024 Olympic Games qualifier on Tuesday, July 18.

Having secured a convincing 3-0 victory against Guinea in Conakry last Friday, Ghana currently enjoys a significant advantage going into the second leg of the qualifier.

Coach Nora Hauptle has faith in her team's capabilities, believing they possess the necessary quality to secure a spot in the next stage of the Olympic Games qualifier.

Addressing the media ahead of the crucial encounter, Coach Nora Hauptle spoke highly of her players' abilities, which she believes has facilitated her coaching process and enabled her to implement the team's playing philosophy effectively.

"All in all, we have very good players and with their qualities, it makes it much easier for a coach and also to implement the playing idea," she told the media.
"We just build a powerhouse so on the basic it's always our values.

"Tomorrow is very important that we stay very humble and that we are selfless and we don't only play for the crowd.

"We also set a strategy towards the game [against Guinea] which is framed on how they play."

The second leg of the encounter will take place at the Accra Sports Stadium with kickoff set at 16:00 GMT.