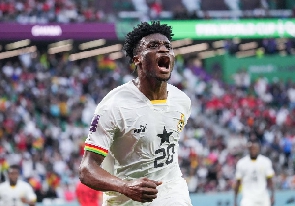 Fri, 17 Nov 2023 Source: Simon Asare
Ghana's football has over the years produced amazing footballing talents who have excelled at both club and national levels, but it has come to an era where the nation is banging its hopes on the magic of one individual called Mohammed Kudus.
The upcoming World Cup qualifiers against Madagascar and Comoros, is considered very crucial by many Ghanaians, even beyond footballing reasons, as the Black Stars seek their fifth qualification to the biggest football showpiece in the world to be held in the United States, Canada, and Mexico.

Mohammed Kudus has moved from being just a key member of the current Black Stars squad to being the most important player on the pitch for Ghana, especially in the final third, where he has been red-hot for club and country.

The ruthless scoring ability of Mohammed Kudus, coupled with his dribbling skills, has captivated the football world as they continue to lookout for this wonderkid, who was recently nominated for the CAF Men's Footballer of the Year award.

Mohammed Polo, a legendary Ghanaian footballer who was known as the 'Dribbling Magician', in a recent interview with GNA Sports, described Kudus Mohammed as a generational talent who can lead Ghana to glorious moments on the pitch.

"Mohammed Kudus, together with Ernest Nuamah, would have a massive impact on our bid to qualify for the next World Cup. It is very rare for Ghana to have these kinds of players on one team at a time, but we are blessed to have this duo who are not just creators but scorers," Mohammed Polo said.

The former Accra Hearts of Oak coach also stated that Kudus would continue to improve as a player, especially with his recent move to English Premiership side, West Ham, where he has been banging goals.
The influence of Mohammed Kudus in the Black Stars squad is growing exponentially, and this statement was evident during Ghana's AFCON qualifying match against the Central African Republic at the Baba Yara Sports Stadium and the friendly against Liberia in Accra back in September.

The crowd chanted his name whenever he received the ball, something very unusual among Ghanaian football fans, and Mohammed Kudus was certainly sparked by these chants to give his all.

Joseph Adamafio, the Ghanaian sports journalist who interviewed the West Ham fan in Kumasi, stated in an interview that Mohammed Kudus' stature in the current Black Stars has reached god-like status.

"I was mesmerized with the love Mohammed Kudus has received since he was called up to the Black Stars in 2019 by coach Kwesi Appiah. The fans do turn out at the various stadiums to watch Mohammed Kudus, and if you have people travelling from all over the world to watch you, it means you are special.

"I can say he has been one of the driving forces in reigniting the love for the Black Stars. If there is any chance for Africa to produce another Ballon d'Or winner, then Kudus seems to be a strong contender," he said.

The upcoming 2026 World Cup qualifiers and the 2023 Africa Cup of Nations in Ivory Coast offers Mohammed Kudus the opportunity to cement his legacy as one of the greatest footballers to emerge from the land of gold, Ghana, which has produced some golden talents including Abedi Pele, Tony Yeboah, Ibrahim Sunday, Mohammed Polo, Asamoah Gyan, among others.
Click here to follow GhanaWeb Sports WhatsApp channel 



Watch the latest episode of Sports Check with Ryan Bertrand



Ghana's leading digital news platform, GhanaWeb, in conjunction with the Korle-Bu Teaching Hospital, is embarking on an aggressive campaign which is geared towards ensuring that parliament passes comprehensive legislation to guide organ harvesting, organ donation, and organ transplantation in the country.
Source: Simon Asare