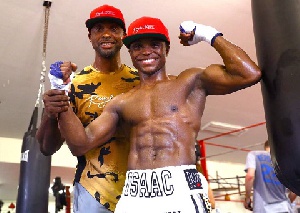 Ghana's former WBO Super Bantamweight Champion, Isaac Dogboe has given a subtle response to his father, Paul Dogboe after claims to settle the debts he incurred while managing him.
Paul Dogboe disclosed that he borrowed money to fund bouts of his son, Isaac Dogboe's quest to become a world champion and now his son has forsaken him while his debtors are on his neck.

Paul Dogboe claimed that he funded the boxer's bouts in the past and is struggling to repay those debts since the boxer jumped ships.

"I borrowed monies to fund bouts of Isaac Dogboe when I was still his trainer. It took almost more than 11 years of investments and hard work to put Isaac on the World map.

"I was recently humiliated at the airport about a pending lawsuit over debts unpaid, debts used to fund Isaac's bouts. We had numerous sponsorship from like Uncle Mitch and others who invested and paid for bouts for Isaac to fight. I do not want anything from my son, all I ask he pays his debts".

Reacting to the claims by his father, Isaac Dogboe put a post on social media where he stated that he will tell his side of the story at the right time. His post however suggested that his father told a story to favor his narrative.
"Until the lion tells his side of the story, the story always glorifies the Hunter. A DAY OF RECKONING WILL COME! We Move!," Isaac Dogboe wrote on his official Facebook account.

Isaac Dogboe parted ways with his father, Paul Dogboe who was his manager two years ago.



JNA/OGB