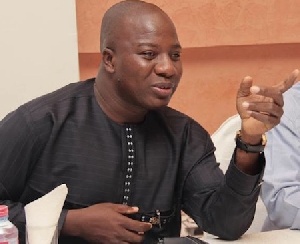 Starrfmonline.com's investigations have revealed that the Government of Ghana spent over six million dollars ($6million) to airlift fans to Equatorial Guinea to support the Black Stars at the just-ended Africa Cup of Nations.
Starrfmonline.com earlier reported that Government spent at least $165, 000 to fly 250 fans in two chartered flights to the oil-rich country to watch the Black Stars' semi-final game, but it has now been revealed that government actually spent one million dollars on six separate trips for all the six games played by the Black Stars at the AFCON.

Sports Minister Mahama Ayariga last week told Starr 103.5FM that his Ministry had no involvement whatsoever in flying Ghanaian fans to Equatorial Guinea to watch the Senior national team.

But checks by Starrfmonline.com have revealed that the Sports Ministry invited the fans to submit their passports for processing before they were forwarded to the Office of the Chief of Staff where all the travels were coordinated.

Checks by Starrfmonline.com have also revealed that travel agencies charged between $650-$700 for a round trip from Accra to Malabo per head. The government, according to highly-placed sources, used the Ghana National Petroleum Corporation (GNPC) as a smokescreen to avoid any public flak.

Some of the supporters flown to Equatorial Guinea to cheer the national team included Ministers of State, officials of the GNPC and some football administrators of some clubs in the country.
A section of Ghanaians have expressed their annoyance at the decision to carry fans to the continent's football fiesta especially as Ghana failed to bring home the trophy.

Some Ghanaians have also condemned the move since the West African nation is currently before the International Monetary Fund (IMF) for a three-year programme to stabilise a wobbling economy as well as boost domestic reform.

Ghana is currently reeling under a litany of economic hardships. The local currency, the Ghana Cedi, plunged by about 40 percent in value against the US dollar in the first three quarters of 2014 but picked up in the last quarter after the Government infused $2.7 billion into the economy through a $1-billion Eurobond flotation and a $1.7-billion cocoa syndicated loan.

Earlier checks by Starrfmonline.com revealed that Travel Matters – a travel and tour agency – was the only agency in handling the travel arrangements of the fans to Equatorial Guinea.