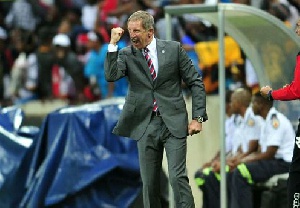 South Africa coach Stuart Baxter has looked ahead to Nigeria with a somewhat bullish mood.
The South Africans meet Nigeria in a humdinger tomorrow evening for the AFCON 2019 quarter-finals. Bafana's passage to meet Nigeria includes the big scalp of Egypt in the last 16 round, a game that has hugely inspired Baxter's side to take on any top side.

"Not at all. I think the Nigerians are absolutely one of the best teams on the continent. They have been for a long time'" Baxter said in response to whether SA are the favourites.

"They have been a powerhouse of African football for a long time. And one game doesn't make us favourites."

"I think Gernot would love to have that tag as underdogs' and in that way slip the pressure from you guys [Nigeria]. But I don't think he's fooling anybody to tell you the truth. No' we'll go into the game as we do every game."
Baxter further highlighted that with good organisation and South Africa's unique abilities on the ball, a job can be done over the team they respect but do not fear.

"When we hit that balance between good organisation and still getting the ball in play and playing with pace' and closing people down at pace' and using the natural inherent ability and technique' we can give anybody on this continent a good game."

"Therefore we go into every game knowing that we have the chance to win and the chance to lose. And that is how we'll approach this game."

"We'll respect Nigeria and not fear them. And we'll absolutely not think that we're the favourites. We will know that we have to produce a very good South Africa performance if we're going to beat them," concluded Baxter.