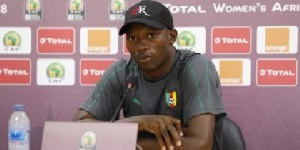 Cameroon coach Joseph Ndoko has commended the display of the Black Queens in their 1-1 stalemate in the ongoing Africa Women's Cup of Nations.
Ghana's hopes of winning the coveted trophy for the first time were dashed on Friday after playing 1-1 with the already-qualified Indomitable Lioness of Cameroon at the Accra Sports Stadium.

Coupled with Mali's 3-2 win over Algeria in the other Group A fixture which was being played simultaneously in Cape Coast, the Black Queens finished third on the group with four points.

Despite Ghana's failure to end the game with the needed victory to qualified for the semifinal stage, Cameroon coach Ndoko was full of praise for the performance of the troubled Queens.

"I would like to congratulate Ghana for putting up a very good challenge," he said.

"Ghana remains one of the best teams on the African continent.
"It appears to me that the teams get better as the tournament goes on and that is exactly what we saw from Ghana today."

Cameroon finished leaders of Group A with seven points and will play the runner-up of Group B in the semi-finals.