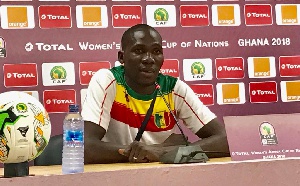 Coach of the female Eagles of Mali, Mohammed Houssein says his side are poised for victory against South Africa in the semi-final of the Africa Women's Cup of Nations on Tuesday.
According to the coach, his tactics and strategies are drawn to ensure victory regardless of whichever team they come up against.

South Africa have been impressive at this year's tournament beating former Champions Nigeria and Equatoria Guinea en-route to reaching the semis. However, Hussein is unfazed by the achievement of the Bayana Bayana.

"We are preparing very well for the game against South Africa. We are keeping our composure and seriousness in place for the game," he said in the pre-match conference.

"Every coach aims to go far with the team they possess. Some didn't believe in this but I have worked and toiled so far with my team to get this far," he added.
"We know what it means to be in the semi-finals of the tournament. Statistics will definitely say South Africa are better than Mali but football is played within ninety minutes. Until it is over you can't declare a winner. We did our best even though playing against Ghana wasn't easy but once more I thank God for guiding us to this stage."

"Hard work really pays and hope is always guaranteed. It has never been easy as I keep say mentioning and everything team have their strength and weakness. We have been able to map up strategies that have gotten us to this level

"There are individual capabilities but then teamwork kept us going. We identified so many mistakes but teamwork enabled us to correct them swiftly. Our tactics and strategies are always aimed at victory."