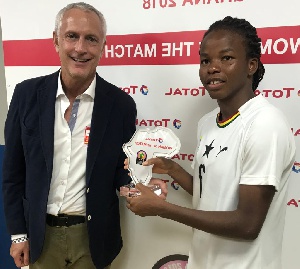 Black Queens winger Sherrifatu Sumaila was named Player of the Match as Ghana beat Algeria 1-0 in the opening game of the Africa Women's Cup of Nations.
The LA Galaxy Orange forward impressed on the flanks, whipping in crosses and creating chances but Ghana could only manage just a goal on Match Day 1.

Sherrifa was in contention with Algeria's goalkeeper, Takenint, who played a huge role in stopping the North Africans from conceding more goals.

Gladys Amfobea's 13th-minute strike was enough for the Black Queens to open the campaign with victory.
The Black Queens will have to take their chances when they come up against Mali on Match Day two.

Sherrifatu Sumaila will also be expected to repeat her outstanding performance in the games to come.

Meanwhile, the Black Queens are leading the table in group A with the win over the Algerians.