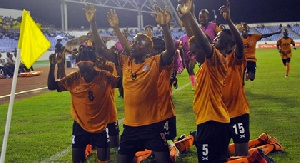 Mon, 19 Nov 2018 Source: cafonline
Zambia pulled one of the biggest surprises in the history of the competition after beating Equatorial Guinea by 5-0 in a Group B clash in Cape Coast, to record their first ever win.
The She-polopolo set the ball rolling with an early lead courtesy an excellent free-kick from Grace Chanda seven minutes after kick-off.

Equatorial Guinea, reinstated after the winning appeal against Kenya, nearly levelled in the 24th minute but Zambia's goalkeeper Hazel Nathasha Nali made a wonderful save to stop it.

Irene Lungu doubled Zambia's lead on the stroke of halftime with a sublime free-kick. Equatorial Guinea kept pushing for a consolation and a boost but failed to break the defence of Zambia.

Racheal Kundananji pounced on a rebound to make it 3-0 for Zambia in the 57th minute. Mary Mwakapila added another ten minutes later from the spot after she was fouled inside the box.

Nali made another huge save to prevent a consolation from Equatorial Guinea a minute later to keep her side in the driving seat.
Kundananji could have gotten the first hat-trick of the tournament but failed to convert a penalty in the 76th minute. She completed the rout with her second of the night three minutes from the final whistle.

The win takes Zambia to the summit of Group B via superior goals despite having three points apiece with South Africa.

Reactions

Bruce Mwape (Head Coach, Zambia)

I would like to say the game was good per the results. But the overall performance of team in my opinion still need more room for improvement.
All that we wanted was the three points for the first game so that it will boost the morale in the team. I can only give credit to my players. They did what was required of them on the field of play. Every game is 90 minutes and there is a plan for each of them. We planned very well for this one.

Jean-Paul Mpila (Equatorial Guinea)

I must say I am not downhearted for the loss today. I will also admit that our problem with CAF (disciplinary ruling) prior to the tournament affected us one way or the other.

I made sure to make the team ready for the game by 95%. We worked as a team for that.

Finally, I will congratulate the coach of Zambia for this hard work and he deserves it. I accept the defeat.
Source: cafonline