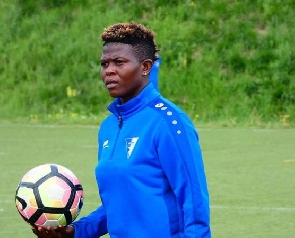 Midfielder Priscilla Okyere admits the Ghana team felt an overwhelming pressure to win their opening game at the 2018 Africa Women's Cup of Nations against Algeria.
The Black Queens managed a slim 1-0 win over Algeria on Saturday through a fierce Gladys Amfobea strike.

Ghana however spurned several chances to miss an opportunity to record an even more convincing win.

Okyere who was key to the side in the win admits the team wasn't helped by the enormous weight of expectations playing before the home crowd.

"This is the first time we were playing against such a crowd and we felt the pressure," she told FootballmadeinGhana.com.
"We were very eager to score and that is why we missed a lot of the chances."

Okyere is however upbeat of the team's prospect having gotten the Algerian game out of the way successfully.

"Now that we have our first three points I think things will settle for us," she added.

"The most important thing for us was to get the win and we managed to do that so I think things will get better for us."