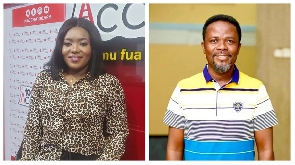 A reporter with Accra FM, Nana Ama Agyarko has reacted to claims by ace sports journalist Dan Kwaku Yeboah that the National Patriotic Party (NPP) has constructed 150 astroturfs in the seven years.
According to Nana Ama Agyarko, the claims by Dan Kwaku Yeboah are all fallacies, tagging the sports broadcaster as one of the media personalities who have been influenced with money to speak in favor of the government.

Reacting to the video of Dan Kwaku Yeboah, Ama Agyarko labeled him as someone who peddles falsehood and should be ashamed.

Speaking on Accra FM, Nana Ama Agyarko said "Dan is one of the reasons why Ghana has gotten to this level because of lies and deceit. We hate the truth and due to that, we have sold our integrity, knowledge and wisdom. When you glance through the Bawumia Outlines 100+ Achievements of the NPP Government, page 14, number 63 talks about sports facilities (AstroTurf). Largest number which is at the end of 2016, Ghana had only three turfs but today we have over 80, so where from the 150 Dan said",

"About 80 percent of Astroturf in Ghana are owned by McDan. Is McDan the Sports or Youth Minister? Most are owned by private firms which are being rented out. So, Dan Kwaku Yeboah should put an end to his lies about the 150 Astroturf. Look at the poor nature of Astroturf they commissioned in Assin North and when it rains, the whole place gets flooded. They are called Astro pools. The more they lie on radio, the more they get paid by the government. Instead of Da Kwaku Yeboah to bash the Sports Minister for the poor nature of the Accra Sports Stadium, he is rather peddling lies about Astroturf achievements", she added.

Dan Kwaku Yeboah who doubles as the Head of Sports at Despite Media has praised President Akufo-Addo for the massive work done, but has however criticized some ministers who he believes have failed to live up to expectation and don't deserve to still be at post.
Watch the video below:



Ghana's leading digital news platform, GhanaWeb, in conjunction with the Korle-Bu Teaching Hospital, is embarking on an aggressive campaign which is geared towards ensuring that parliament passes comprehensive legislation to guide organ harvesting, organ donation, and organ transplantation in the country.

Click here to start the nomination process for the 2023 GhanaWeb Excellence Awards

Watch the latest episode of Sports Debate and Sports Check below








LSN/KPE