Sports News Mon, 10 Jul 2017
Africa's sports equipment manufactures, AceHonor, on Friday donated gift items worth GHC11,000 cedis to the Accra Great Olympics team at the Accra Sports Stadium.
AceHonor made the during the teams last training before they played Wa All Stars in the Ghana Premier League.

The company donated 30 football boots, socks and bibs to the entire Great Olympics team.The Accra based team is currently struggling to overcome relegation in the Ghana Premier League.

Speaking in an interview shortly after the presentation, former Black Stars and Olympics wingman Laryea Kingston who also doubles as the ambassador for AceHonr in Ghana hailed the AceHonor Company for their initiative.

"I think AceHonor being in link with Olympics and other clubs in Ghana is a fantastic idea.

I hope everyone will support them and help bring up a positive brand.
This is just the beginning, I'm sure in future they will bring up the very quality brand of the boots, other sporting wear because I have informed the management."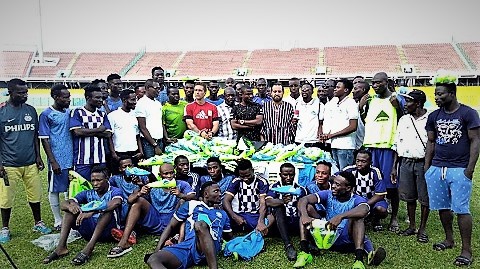 Great Olympics shareholder Talal Fatal was very grateful to AceHonor for the donation and was very optimistic that their good deed will help Olympics overcome relegation in the Ghana Premier League.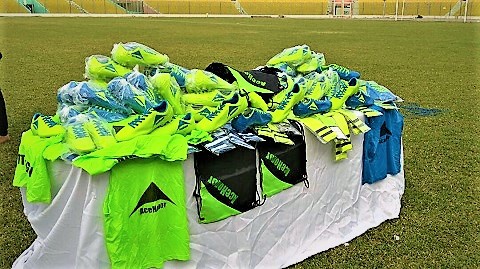 About the Company
AceHonor is a sports wear producing firm based in Ghana. The companies dream is to become the leading Sportswear brand in Africa, providing high quality boots at affordable prices to support the football game. AceHonor also gives away free shirts and stockings all in one bag once a customer buys the AceHonor boots for GHC 120.00 cedis.

AceHonor, Let it begin.