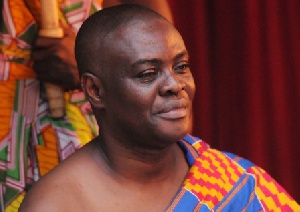 Chief Executive Officer of Aduana Stars Albert Yahaya Commey has commended Nana Agyemang Badu II for fulfilling his promise to the playing body.
The Life Patron of the Ghana Premier League champions promised to reward the playing body handsomely if they qualify for the group stage of the CAF Champions League or the continent's second-tier club competition, Confederation Cup.

Nana Agyemang Badu II fulfilled that promise by delivering a cash of $25,000 to the team at the Abanpradease Palace in the Dormaa.

According to Albert Commey, the gesture by the club's bankroller did not come as a surprise to him, and took time to eulogize the players commitment in the competition.

"Dormaahene is a person who always delivers on his promises. Dormaahene gave the players $25,000," Mr. Commey told Happy FM.

"It's for the players because they are the main actors on the field."

"The players have shown selfless despair all the challenges."
Mr. Commey was asked if they can win their remaining two games to book their ticket to the knockout stage of the competition.

"We have a mathematical chance of qualifying and it's possible."

According to sources, the players will share the money based on the number of matches they have played.

Aduana occupy 3rd spot in Group A with just four points after four matches, and will need to win their two remaining games to have any chance of making it into the quarter final stage.

Aduana will welcome Ivorian giants ASEC Mimosas to the Nana Agyemang Badu II Park on Match Day 5 of the competition on Sunday, August 19.