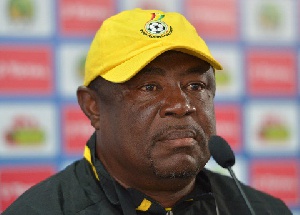 Aduana Stars coach, Paa Kwesi Fabin beleives Ghanaian clubs are suffering from the effects of the coronavirus pandemic.
Football has come to a halt since March 15 after President Akufo Addo issued a directive to ban all social gatherings which include football.

According to the veteran trainer, clubs must work hard to strike sponsorship deals that would ease their financial burden.

He said two months of inactivity due to the ban on social gathering and sporting activities in the wake of the coronavirus pandemic has greatly impacted clubs and players negatively and exposed their weak financial base.

Admitting that players and technical staff are suffering, Fabin said besides the financial strain they are experiencing, he feared that the absence of competitions, planned and supervised training would affect players' form when football finally returns.
"Now there is no football, there are no gate proceeds and most of our clubs don't have sponsors that will even help them in this difficult time.

"It is tough for the clubs, it is a very difficult situation the clubs find themselves now," the coach lamented in an interview with the Daily Graphic.

Fabin, who is also the head coach of the Black Meteors, said his biggest worry was the lack of intensive group training by the players who have resorted to unplanned individual training due to social distancing protocols, fearing they would have lost so much form and become rusty.