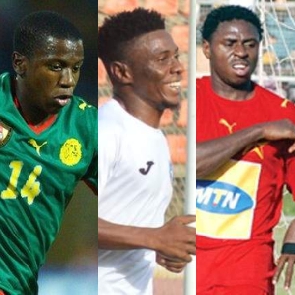 The game of football or soccer has been a source of joy, motivation and unity for the many fans who patronize the sport. This is because of the ability of the sport to unite people of different races, economic and religious backgrounds for wholesome 90 minutes mostly devoid of chaos, pain and destruction but for pure entertainment.
However, there have been times that, through the game, fans, and some families have been left scarred and traumatized forever. One of these times is when players and supporters die or are attacked on the football field which eventually leads to their demise.

This article takes a look at some African football stars who tragically passed away on the pitch during their playing careers or had an attack on the pitch which led to their deaths.

Here are some notable examples:

Patrick Ekeng
The Cameroonian midfielder collapsed during a Romanian league match between his team, Dinamo Bucharest, and Viitorul Constanța in May 2016. He was rushed to the hospital but died a few hours later. Ekeng died at the age of 26.




Endurance Idahor

The Nigerian midfielder also collapsed during a Sudanese league match between his team, Al-Merreikh, and Al-Amal in March 2010. He was rushed to the hospital but pronounced dead on arrival.


Hedi Berkhissa

On 4 January 1997, in a friendly match between Espérance and French side Olympique Lyon at Stade Chedli Zouiten, Berkhissa had a heart attack on the field in the last minutes of the game and died.


Chinonso Ihelwere

The Nigerian footballer died after suffering a cardiac arrest during a friendly match between Romanian second-division teams, CS Delta Tulcea and FC Balotesti.




Marc-Vivien Foé
The Cameroonian midfielder collapsed during the 2003 FIFA Confederations Cup semi-final match between Cameroon and Colombia in Lyon, France. Despite attempts to revive him on the pitch and at the hospital, Foé was pronounced dead later that day. He was 28 years old.




These tragic incidents serve as a reminder of the importance of ensuring the health and safety of athletes during sports competitions, and the need for proper medical facilities and protocols to be in place to prevent and respond to such emergencies.

EAN/ESA