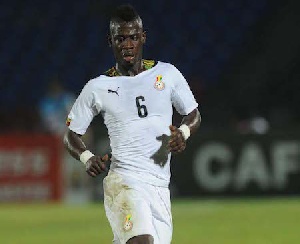 Torino midfielder Afriyie Acquah has debunked widespread perception foreign-based players have no respect for local coaches amid the re-appointment of Kwesi Appiah.
The 25-year-old says the returning Ghana coach will enjoy the respect and support of the squad.

There have been widespread claims of lack of respect for local coaches in the Ghanaian media over the years.

It has been argued that mostly foreign-based players do not accord local coaches the respect they deserve after a player revolt wrecked the country's 2014 FIFA World Cup campaign in Brazil.

But the combative midfielder has told the biggest radio station in the Western region, Medeamaa FM, that the assertion are untrue.

"It's absolute falsehood. There is no truth in those claims. Apart from being a coach, he is like a father to us. He can give birth to us," he told the Tarkwa-based station.
"I don't know why some people hold the assertion we (foreign-based players), don't respect local or black coaches.

"The coach decides which player to select at a particular time. And so those claims are baseless.

"We follow instruction to the hilt and so it's sometimes amazing when you hear such stories. They are just figment of the imagination of some people.

"When coach Kwesi Appiah was in charge, we gave him all the respect and the support. Please this is not what the team needs at the moment.

He added: People just make these claims up. Those who are close to the team are aware these stories are cooked-up.
"Interestingly, you are unable to pin-point which people makes these false claims. It should be disregarded."

Appiah has five games coming up in three months.

His first assignment will be in June when he plays Ethiopia in the 2019 Africa Cup of Nations qualifiers.

Then two internatinal friendlies against Mexico and USA on the 28 June and 01 July respectively.

Appiah will also assemble a home-based side to face Burkina Faso in a 2018 CHAN final round qualifier over two legs.