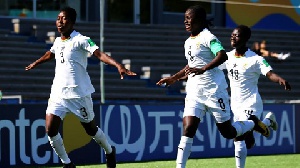 Football agents were chasing the Black Maidens all over in Uruguay before their departure to Ghana, Coach Evans Adotey has disclosed.
He said: "Wherever you pass, you see agents chasing Ghana."

Coach Adotey disclosed this upon the team's arrival in Accra on Wednesday.

Ghana painfully exited the 2018 FIFA U-17 Women's World Cup after losing 4-2 on penalties to Mexico in the quarter-finals.

The Maidens had led twice in that game but the Mexicans drew level on both occasions.

Apology to goalie
After the match, Coach Adotey was hard on first-team goalkeeper Grace Boadu.

But he apologized to her.

"I will not attribute the defeat against the goalkeeper alone," he told TV3's Nana Akua Amankwaah.

"We all lost the game together. It came out of anger so I am apologizing for that behavior."

He said he was not himself after the match but saw the pride in their performance a day after due to the praises heaped on the team.
"In fact they made me proud because after tournament, before departure, agents were all over chasing some of my girls and even talking to me."

He said despite not reaching the semi-final, the flag of Ghana was raised high.

The tournament is ongoing with Black Maidens' captain Mukarama Abdulai gunning for the Golden Boot with her 7 goals so far.

Captain Mukarama Abdulai is leading the goalscorers' chart

She said she is happy though not absolutely, as a result of Ghana's exit.
"I see that I am the first player to set that record but we not getting to the final is another way of making me sad because we lost our game to Mexico.

"If I win I will be very happy because it is going to be part of Ghana's record."

So far, Spain has made it to the final after beating Ghana's group stage opponents New Zealand 2-0 in the semi-final.

Mexico will face Canada later on Wednesday.