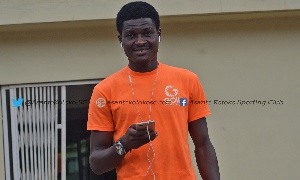 Asante Kotoko centre-back, Emmanuel Agyemang has been discharged from hospital after suffering a concussion in Kotoko's draw with Medeama on Wednesday in Tarkwa.
The 23-year-old was elbowed, in the first half in an off-the-ball incident, as Kotoko drew 1-1 with the Tarkwa-based club in a friendly at the Essipong Stadium.

The youngster was sent to the hospital for treatment from the team's medics after the incident, but lost consciousness seconds later, and was rushed to a nearby hospital.

"He suffered a blow to the head and that made him feel dizzy with high body temperature", revealed Cosmos Appiah of the Kotoko Medical Team.
"He had to be rushed to the hospital for a checkup, but was discharged a few hours later upon the Medical Officer's recommendation."

"He has been reassessed this morning", Cosmos Appiah further stated.

"He is doing well and can go about his duties."