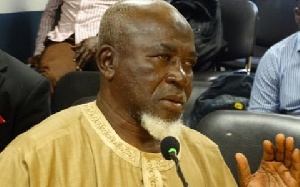 Owner of Division One side King Faisal Babies, Alhaji Karim Grusah wants beleaguered former GFA President Kwesi Nyantakyi to appeal the life ban handed him by FIFA.
The former CAF Vice President was slapped with the punishment on Tuesday and was also asked to pay a fine of 500,000 Swiss Francs.

The adjudicatory chamber found Mr Nyantakyi guilty of having violated Article 19 of (Conflict of Interest) Art 21 Bribery and Corruption, and Article 22 Commission of the FIFA Code of Ethics 2012 edition.

Meanwhile, Grusah who was once interested in the FA job believes the punishment is harsh.
"I strongly believe that the decision from the adjudicatory chamber of the independent Ethics Committee is too harsh. A lot of people have done worse than what Kwesi Nyantakyi got himself into but weren't given such punishments," Grunsah told Goal.com.

"I believe Nyantakyi must appeal this decision because it is possible that it can be overturned or the punishment reduced to a certain number of years.

"Another surprise was when I heard that he should pay a fine of almost $500,000 after all these troubles. I'm not happy with what has happened to him and will advise that he sees his lawyers as soon as possible," he added.