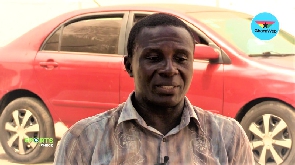 Former Hearts of Oak skipper Amankwa Mireku has singled out teammate Emmanuel Osei Kofi for praise as the best of the 64 Batallion squad.
The 64 Batallion squad is considered the greatest in the history of Accra Hearts.

The squad made up of Amankwa Mireku, Don Bortey, Charles Taylor, Adjah Tetteh and others won several laurels with the 2000 CAF Champions League and the 2004 Confederation Cup conquest being the highest point of the Phobian dominance.

In the past few weeks, there have been heated arguments on social media about Taylor and Bortey over who is the better of the two.
While the argument tilted towards Taylor as the more gifted of the duo, some suggested that their teammate Emmanuel Osei Kuffour was the best and unsung hero of that team.

Amankwa Mireku was the skipper of that side and he has chosen the man touted as 'The General' ahead of Bortey and Taylor.

According to Mireku, Kuffour's football IQ was way above his teammates and none comes close to him. "I will choose Emmanuel Osei Kuffour as the all time best player because he was brilliant than the other players. His intelligence in football was very high that's why I chose him as the best player", he told Eastern Region-based Tru FM.