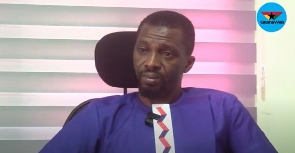 Former Ghana international, Yussif Chibsah, has expressed confidence that a former footballer will one day head the Ghana Football Association (GFA).
Former Ghana captain, Stephen Appiah, recently called for the involvement of ex-footballers in various levels of football administration in Ghana.

While his comments were well-received by many, they didn't sit well with some members of the current GFA administration.

An executive member of the GFA responded to Appiah's comments by emphasizing the importance of following the proper processes before considering ex-footballers for leadership positions.

However, Chibsah played for the national team in the past and believes that a former football player can lead the GFA.

"There is a possibility [of a former football player leading the GFA] because ex-footballers are still investing in and following football. They have a passion for football, so we cannot entirely rule out the possibility," Chibsah stated.
He further added, "As long as ex-footballers are still involved in football and possess the passion, there could be a chance that one day a former footballer will emerge to lead the association. However, we must also acknowledge that if someone aspires to become the FA president, they must follow the proper procedures.

"Football is governed by rules and regulations, and the GFA has its constitution and statutes. If any ex-footballer has the ambition to lead, they must start preparing themselves on how to become an FA president. It requires more than just being a former footballer."

Currently, the GFA is headed by Kurt Okraku, who is seeking a second term as his initial tenure expires in October 2023.

JNA/OGB