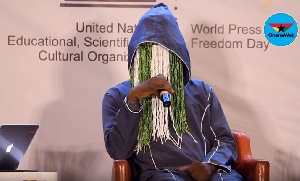 Fri, 25 May 2018 Source: Anas Aremeyaw Anas
It's not my domain and I have done my best to remain in my terrain. Yet have I been hounded with a refrain of pleas I can no longer restrain. Our game is on the wane, they complain, and the very officials in charge are the bane. No matter how you train, however much you strain, you labour in vain, for the main actors have a stain on their brain, and no blood of honour in their vein.
Here I am on a long journey up-country, to Bolga, to be precise. In spite of my best effort to ensure that the car has a clean bill of Formula One health, we have had to park and attend to some creaking noise under the shaft. My driver shows clear signs of not having yet gained full mastery of the complex chemistry and engineering witchery that make up this car.

Some five metres away from where we are parked, up a small hill, a newsvendor is hanging his wares with a grin on his cheek. A colourful picture on the back page of the January 8, 2018 edition of the Daily Graphic catches my attention. It is the picture of Isaac Dogboe, Ghana's new boxing sensation, with hands raised in triumph by the American referee, Tony Weeks. The hard-hitting Dogboe had two days earlier recorded an emphatic fifth round technical knockout victory over Cesar Juarez of Mexico to win the Interim WBO Super Bantamweight title in Accra.

"If every sport offered the possibility of the competitors being their own referees as Dogboe has done, and as Azumah Nelson did repeatedly during his heyday," I muse.

After a little tinkering down the vehicle, the driver signals that the irritant has been fixed and restarts the engine. We are now approaching Konongo as Accra recedes into history. From the observatory of the side screen, I watched bemused, as the gentry and nobility of Konongo strut about their morning chores. A steep climb and we come upon half a dozen adolescent students. Not quite sure of the youngsters' trajectory, the driver slows to a near stop to let them pass. The boys grim and peremptory, the girls full of coquetry, they are trudging to school; very likely one of Nana Addo's free SHSs. Presently, I resume my mental commentary from the momentary distraction.

Now Accra-based Joy FM's signal has weakened to a whimpering noise, so I decide to switch the radio to Luv FM, its Kumasi sister station but my dial picks another Kumasi station. A strident, youthful voice is blaring away the sports news with the volcanic ardour of a pastor who is aglow with the Holy Ghost fire. Not surprisingly, Dogboe's Saturday night victory is on the menu.

"We have another Azumah in the offing," the presenter declares with relish.

I mentioned Azumah in my contemplation of Isaac Dogboe's emphatic victory a while ago. Barely ten minutes later, a radio presenter has done same. The retired champion now captures my thoughts for the next few minutes. It soon strikes me that the legend turns 60 this year. And I think that it is just the time to treat the retired sporting titan to a truly terrific testimonial.

Ghana owes the "professor" this huge moral debt; not the eyesore and insult of a "sports stadium" sited somewhere in suburban Kaneshie. Thankfully, two months after this silent protest at the sorry state of the so-called sports complex, the government has moved to rehabilitate the facility. Did someone in or close to government wire my thoughts and beat me to my spy game? I suspect Egbert Faibille Jr.

In any case, the rehabilitation of that sporting facility is a welcome initiative. Ghana must not wait to organise a national birthday bash for the brawny but bashful super boxer at 90. Even if he lives that long (which I pray he does), his powerful reflexes would have slowed and his joie de vivre so diminished that he might not reasonably be expected to dance as enthusiastically and savour the moment as much as he should. Too often, Ghana neglects its heroes. Then when they fall to eternal, fateful fatality, come and see festivities and fanfare, fanciful fashion and flowery tributes – all futile.

When beggars die, there are no comets seen

The heavens themselves blaze forth the death of princes. (Julius Caesar – Act 2 Scene 2)

Who am I to disagree with William Shakespeare? God forbid such sacrilegious conceit and arrogance that I utter the slightest grumble against the literary giant's wisdom. But I beg to ask: "If the heavens flare up with artificial fireworks, if the atmosphere echoes to gun salutes, to the popping of champagne and the blowing of trumpets, what purpose will that serve for the poor prince if he was not accorded proper princely privileges and pampering while alive?"

This question brings me to the recent loss of a pantheon of national coaching icons; C.K Gyamfi, E.K. Afranie, Osam Duodu, Jones Attuquayefio and Sam Arday. May their souls rest in perfect peace!
The sporting media fraternity has also shed a few not-too-old leaves in the past couple of years; Sammy Okaitey, broadcaster-turned politician Nii Nortey Dua, Tony Owusu Amofa and the veteran at prime age, the baritone-voiced, placid-tempered Christopher Opoku. These gentlemen died before retirement age and threw us into premature bereavement.

I am not making the macabre suggestion that our older sports journalists are being stalked by death. The fact remains, nonetheless, that we are mortals. So regardless of whether they have half a century more years to abide with us, I think the time is now to induct the cream of our veterans into the sports journalism Hall of Fame. As I mentioned at the beginning of this article, sports is not my domain. Apart from a short article criticising some discriminatory recommendations in the Government's White Paper on the Justice Sule Nasr Gbadegbe Committee report, I have not bothered to do sports reporting. I have always considered it a pastime for Ghanaians with no bearing on the bread-and-butter issues and with no big bucks for any big boss to blow.

However, after the infamous "co-efficient" payouts to officials of the Black Stars Brazil 2014 World Cup contingent amounting to $577,500, I have begun to look at football especially differently. This is why I am so sporty today. But again, although I have followed the game a little, in terms of football reporting, I am a novice.

Moreover, this is the product of my reflection intended to beguile slumber and the tedium of the bumpy journey to Bolga, and so it will not be exactly scrummy. I therefore crave the indulgence of the maestros to forgive the inevitable gaps that this pioneer sports report will contain.

This certainly is not a piece to earn me a place in the Hall of Fame. But what are we waiting for to immortalise the yeoman contributions to Ghana football of Kwabena "Scintillating" Yeboah; should we not splash "encomiums" on this journalistic colossus without any further "polemics"? Affectionately called "The Writer", the current SWAG President is irresistible both on paper and behind the microphone. He will always spice up his football commentary with the delightful exclamations "holoaaa", "hundabaaa", "and holalaaa"! It is an understatement to say that at the height of his craft, Mr. Holoaaa's commentary and analyses, his eloquence and his competent presentation of GTV's Sports Highlight programme made him the most popular sports journalist.

When are we going to truly recognise Moses Foh Amoaning, the "sports search engine" and "ako te brofo" of Ghana's sports journalism? The sports journalist cum lawyer taught yours truly Law of Banking at the law school. I salute you, sir. Ken Bediako, the "Sportsclopedia" certainly deserves to be celebrated.

He may have practised sports broadcasting as a pastime and long retired from the field, but Kwabena "Argentina" Agyapong has paid his due to sports journalism and must be given a reverential salute. I was barely a teenager then when Kwabena Agyapong pulled off one of the most unlikely predictions during the 1990 FIFA World Cup quarterfinal encounter between archrivals Argentina and Brazil. The Brazilian juggernaut had crushed every opponent like a roller over mere weeds, while the Argentines had hobbled their way to that stage. Kwabena Yeboah, Kwaku Ofosu-Asare, Willie Alassane, and I believe 95% of all neutrals across the world put as Brazil odds-on favourites. Kwabena was not only convinced Argentina would upset the form guide; he also had the courage of his conviction. The engineer-turned-soccer pundit said something to the effect that by every objective criterion, Brazil were the overwhelming favourites. He insisted nonetheless that given Maradona's sheer guile, talent and experience; given the sheer inspiration the captain's presence offered his team mates and the terror he inspired in opponents, which, moreover, was the reason Argentina had survived the previous rounds, he (Agyepong) would stick out his neck for the underdogs.

The result? Total dominance by Brazil, but the game ended 1-0 in favour of Argentina with Maradona as the architect.

Marked out of the game for large spells, the wily fox cheated his markers' vigilance for just one moment and peeled away, his cultured left foot caressing the ball past the Brazilian opponents with consummate ease before picking out with laser precision, the unerring right foot of Claudio Caniggia.

The Argentines then massed up in midfield and defense to defend Cannigia's goal with stoic determination and see out the remaining ten minutes of regulation time. Kwabena Agyepong had been vindicated in a most unlikely way!

How can I forget this man who put the most accomplished soccer pundits in the world to shame?

My driver appears to have joined in my reverie and bumps the car over a steep speed rump, jerking me into full wakefulness. I hope you have not forgotten, dear reader, that I am on a journey to perform some important assignment in Bolga? Of course, it is not a "diabolical mission" so let no one panic to hear this.

We are half way between Ejisu and Kumasi so I have to wrap up. But not before I have mentioned Joe Aggrey, the headmaster of sports editors who made Graphic Sports and the back page of The Mirror a must-read for any sports enthusiast who lived his teenage years in the 1990's. I must also mention Oheneba Charles, Ebo Quansah, Nii Lantei Vanderpuie, Karl Tuffour and good old Felix Abayateye.
I am making my quiet entry into the heart of Ashanti territory still engrossed in this mental inventory. The Garden City, as Kumasi is famously called, is, as you may know, the repository and sentry of the rich tapestry of Ghana's culture and history.

I just went past the KNUST Junction footbridge and the hospital. The traffic light at Top High has turned red. As I wait, the Luv/Nhyira FM building about 50 metres away to the right catches my attention. "This is the fiefdom of Bright Kankam Boadu and Richard Osei Oware," I tell myself.

The duo in a sense represent Kumasi's version of Dan Kwaku Yaboah, Patrick "Countryman Songo" Osei Agyemeng, Saddick "Sports Obama" Adams, Kofi "Abatey" Asare Brako and Kofi Appiah – I hope you have got the link? Tireless and inveterate critics of the Kwesi Nyantakyi-led GFA characterised, according to Songo, by "sikadie, sikadie basa basa!" (Embezzlement of funds).

To some extent, Kwadwo Mensah Moshosho belongs to this group, although his focus is less on "chop chop" and more on the GFA's seeming lack of policy direction for club football.

It does appear to me also that Odiasempa Kwame Oware, Moses Antwi Benefo, Papa Maestro, and Otuo Acheampong "Sometimer" and Ridwan Ibrahim Asante do not exactly share the view that the Nyantakyi administration has been a failure. And you, Charles Osei Asibey, what is your stand; are you hot or cold on this issue?

My stomach is beginning to churn as hunger begins to gnaw at my ribs. It's been a pretty long while since it received any succour. But then that reminds me that the annual Ramadan ritual of abstinence is slowly coming our way, and resistance thereof there is no way. The scholars say it will be in May – about 4 few months away (at that time of mentally writing this piece), so let me eat while I may. I must stop to eat something.

But let me first pay tribute to Mavis Akoto, the … ? Wrong! She is not the restaurant operator. Mavis is the doyenne of female sports broadcasting, a delight to listen to on Joy FM in the late 90's. Like an accomplished craftsman, the Multimedia Group has cast another Mavis (Amanor) in the Akoto mould as well as Baaba Tandoh. Their prolific conveyor belt has also delivered the brilliant Eva Okyere (who I pray becomes the first female President of the GFA, Insha Allah!). Eva; very unassuming, but sharp and incisive in thought. I salute you, Abokyi. Rosalind Amoh (Graphic Communications Group), Veronica Commey (GNA) together with Beatrice Laryea (Graphic Sports), Rosemary Gaisie as well as Zelda Adjei-Darko formerly of GBC and Citi FM respectively, have ably represented womenfolk in sports journalism.

And since I am in Kumasi, let me seize the occasion to pay my respects to the memories of Jacky Owusu Sekyere and Nana Yaw Owusu who, at OTEC FM, were among the pioneer FM radio presenters in Kumasi. Another first-generation radio presenter is Koo Antwi Barima George and Aloola of Garden City Radio. I will be honoured if these gentlemen accept my humble salute. Then come Hayford Nyarnor-Kodua and Listowel Yesu Bukarson, who made Kapital Radio a towering sports station. But the jewel in the crown of the Nhyiaeso-based station was the Monday evening sports programme hosted either by Yaw Boafo or Kwame Ofori-Kuragu with Dr. Asafo Adjei, Javier Clemente, Muheeb Saeed, etc. as guests. The versatile, progressive Listowel rose to become the general manager of the station and host of one of its hottest political programmes.

"Sports is life and life is sports, so with Sometimer and Joe Laka. You are sportingly sumpticacious!" So goes the jingle promoting the two gentlemen, arguably Kumasi's most famous sports presenters. The "self-exiled" Awal Mohammed, Frederick Acheampong, Ebenezer "King Eben" Kyere, Sylvester "the Rumour Man" Anane, Kwaku "Amanone" Ahenkorah, Michael "Summer" Darko, Collins "Sports Bishop" Atta Poku, Collins "Acorstic" Asante, Henry Amankwaa Ashebwei, Patrick Apreku and Sammy Bee (the Dzamefe Committee's 'amicus curiae'), my warmest regards!

I will return anon to finish my reminiscing about the journalists who have made sports a staple on Ghana's media menu over the years. Pray I don't choke on my food.

The local delicacy I have been served has failed to take my mind off this endless musing on Ghana's sports and some of its non-playing heroes. For the depth of their knowledge and professionalism, I have always had great admiration for the likes of Jeffrey Asare, Maurice Quansah, Gary Al-Smith, Nathan Quao, Godfred Akoto Boafo, Yaw Ampofo Ankrah, Nathaniel Attoh, Elloeny Amande, Henry Asante Twum, Erasmus Kwaw, Fiifi Banson, Ernest Koranteng, and seasoned retirees in other spheres such as Andy Quao, Dr Kwaku Ofosu Asare, Ibrahim Sannie Daara, Paul Adom Otchere, Kojo Addae Mensah, Randy Abbey and Kwame Baah Nuako. I am glad that my GIJ seniors Michael Oti Adjei and Samuel Yirenkyi belong to this group on merit, which saves me the trouble of showing "alma mater" partiality. There's also the intrepid investigative reporter John Vigah of the Ghanaian Times. Regards to Kurt Okraku: I am proud of your achievement in the sport – from sports presentation to club ownership. My little regret is that my mates Kuuku Yankah and Cecil Adom left the trade too early for foreign adventure, after a promising start at Joy FM and GNA respectively.

Not less worthy are the Fiifi Anamans, George Addo Juniors, Juliet Bawuahs, Jerome Otcheres, Sammie Frimpongs, Anim Addos, Prince Annans, Joe Larteys, Ernest Bruce Smiths, Fiifi Tackies, Thomas "Tom Krugger" Boakye Agyemangs, Nana Darkwas, Umar Farouq Atipagas, Thomas Freeman Yeboahs, Yaw Osagyefo Anamans, Enoch Worlanyor Wallaces, Yakubu Zambangas, (Northern Region), Richard Ntows, (Brong Ahafo) as well as the Tony Nkrumah Boatengs, George Kuntu Blanksons (Western Region) and so many other talented and industrious sports media professionals across Ghana.

I hope I will be forgiven for not mentioning any sports journalist practising outside the five regions mentioned here. My dial does not go beyond these five.
I am past Kintampo, with Tamale beckoning and slumber sneaking over my brow. But I cannot pass through Gonjaland without observing custom. I will not yield to slumber until I have done justice to Alhaji MND Jawula, one of the proud sons of Gonjaland to have ventured into football administration. A longstanding director of Real Tamale Football Club, Alhaji Jawula rose to become one of the Ghana Football Association's most respected presidents. Even after his exit as head of Ghana football some two decades ago, Lepowura has continued to put his rich experience at the service of the game.

Alhaji Abdul Karim Grusah, the man who famously sold his acclaimed goal poacher, Eric Gawu, to Accra Hearts of Oak without selling his goals. A fiery figure, famous for his fierce and forthright frankness, Alhaji Grusah reportedly told his fellow club owners and administrators who were grumbling about biased officiating to shut up, since they are the very people who corrupt the referees.

Grusah, fondly called "Heavy Heavy" in Kumasi, has one of the keenest eyes for talent. Among his products are current Black Stars assistant coach, Ibrahim Tanko, the world renowned Samuel Osei Kufour, Joe Debrah, Ali Ibrahim, Baba Musah and Casola Dacosta, all of whom played for one national team or the other. Alhaji, Tiger Eye salutes you.

The rigours of the Savannah environment are on full display; an endless expanse of parched land, of dry wind whistling by and a miasma of dust and heat drifting across the horizon, curtaining off the scarlet sunset sky.

I should not let the sun set on my mental journey before I say a word of acknowledgement to GFA President, Kwesi Nyantakyi, also Northern-born. One of the youngest to become head of Ghana football, Nyantakyi has had an impressive meteoric rise up the echelons to become Vice President of the Confederation of Africa Football (CAF) and a FIFA Executive Council member. He is also the GFA head to have broken Ghana's World Cup qualification jinx by taking us to three straight FIFA World Cup tournaments. On the flip side, the "Co-efficient Man", "Countryman Songo's Pet Opponent" and "Dan Kwaku Yaboah's Friendly Foe", has often been criticised for his administration's fixation with the more lucrative Black Stars at the expense of domestic football.

The sun has now well and truly set. Let me end the Northern leg of my contemplation here and return with the Southern version when I return to Accra and manage to cull some time from my water-tight calendar, Insha Allah!

I am back to Accra, Alhamdulillah! (All thanks to God). Unfortunately, as I write this piece, one of the key architects of Accra Hearts of Oak's golden era, Alhaji Hearts, has just departed to the other world. My condolences go to his family, the Hearts of Oak family and Ghana football fraternity. Alhaji had a reputation for being a pacifist and unifier, who would untie every knot of contention with his elderly wisdom and disarming negotiation skill. And talking about Alhaji Hearts reminds me of Alhaji Sly Tetteh and Alhaji Bimbo, two promising sports administrators who died so early, and, lest I forget, Alhaji Nje, ex-Kotoko Chairman and Nii Ordartey Lamptey's godfather. May Allah have mercy on their souls.

Let me go back to the camp of Accra Hearts of Oak and salute all who played a role in the club's charmed eight seasons in which it won the league seven times, together with the CAF Champions League, Super Cup and Confederation Cup. I refer here to Champion Chairman, Harry Zakkour, Ato Ahwoi, the most successful club Board Chairman in Ghanaian football history, Nii Ayibonte II, Steven Akwetey, Commodore-Mensah, Professor John Evans Atta-Mills of blessed memory, Ernest Bediako, Isaac Tetteh, Nii Sabahn Quaye, Nana Wireko Ampem of blessed memory, Alhaji I.A Issaka, Alhaji Fawaz Zowk, Ernest Thompson, Ernest Quarshie, Kojo Twum-Boafo, Randy Abbey, Ashford Tetteh Oku, etc, etc, etc.

If the above gentlemen were the brains behind Hearts of Oak's recent past success, Herbert Mensah of Asante Kotoko was the man who lit the fire of competitive rivalry that spurred the rainbow club on. Indeed, two years after Hearts' Champions League triumph, Herbert also took Kotoko to the final of the erstwhile CAF Cup Winners Cup, missing the trophy on the away goal rule to WAC of Morocco. Herbert's marketing and branding prowess saw Kotoko emerge under his leadership as arguably the most advertised institution in Ghana. George Amoako and the late Amoah Bosompem also played commendable roles in Herbert's administration, together with Jarvis Peprah who later led the club.

One cannot pay tribute to the stalwarts of Ghana football administration without mentioning Oduro Nyarko. The Wa All Stars C.E.O is probably the most experienced and longest-serving football club administrator in Ghana, having started with Okwahu United some three decades ago. Let me salute Ofosu Bamfo Sikkens, one of the courageous and dedicated businessmen who threw their monies into the thankless enterprise of managing traditional football clubs. Kwame Ntow Fianko, former Division One League Board Chair, I doff my hat for you! You are one of the most decent and respectable figures of the game.

From the days of Gamba All Blacks, through Liberty Professionals and Okyeman Planners to GFA Vice President, George Afriyie has come a long way. Unfortunately, he has become embroiled in a dirty political power play in the corridors of the GFA.

Nana Brew Butler (Ebusua Dwarfs/GFA), Dr. Nyaho Tamakloe, Amarkai Amateifio, Oluboi Commodore, Joseph Ade Coker, (Great Olympics), Nana Benyin Eyison (Hasaacas), Welbeck Abrah-Appiah and Owoahene Acheampong are some of the worthy old guards who have paid their due to Ghana football.

Time and space will not allow elaboration.
Fortunately, their contributions and their merits are self-evident. Alhaji Yakubu of Berekum Arsenal, Oduro Sarfo, George Gyawu, Alhaji Lamin and Kudjo Fianoo, Osei Kwaku Palmer and Abdussalam Yakubu deserve no fewer plaudits for their commitment to the game, and so is Helena Cobbina, one of the most devoted female club administrators. A longstanding Board member of Kumasi Asante Kotoko, Madam Cobbina was also instrumental in the organisation of the Kotoko Ladies Club. Also deserving of plaudits for their contributions to women's football are Linear Addy and Abiba Atta.

Moses Parker and Albert Commey have demonstrated through the consistent performances of Medeama and Aduana respectively, that they have learnt the ropes very well and rather fast. And now, the man Bright Oblitey Akwetey! I have met him only on a few brief occasions. Yet I always went away with legal knowledge worth 12 hours of reading one of the most erudite scholars in the field. l always got the sense that this man, like a few others I know, would have invented the legal profession if he had not come to meet it.

Let me cite one instance when Bright's interpretation of the football rules might have baffled even the framers themselves. After losing the 1990 FA Cup final 2-4 to arch-rivals Asante Kotoko, the Hearts management protested that Joe Debrah, arguably one of the greatest talents to grace the local football pitches, was unqualified to feature in the game for Kotoko, having accumulated three yellow cards in previous matches. Kotoko's arguments sounded solid and unassailable: they had withdrawn from the OGLCA (now GHALCA) competition in which Joe Debrah received one of the three yellow cards. Now, the GFA rules say that when a club withdraws from a competition midstream, its records are expunged. By virtue of their withdrawal from the OGLCA therefore, their records in that competition including Joe Debrah's yellow card, had been expunged, thus rendering him eligible for the FA Cup final.

Bright Akwetey, leading the Hearts legal team, was however to cause heads to spin with one of the most learned and innovative interpretations of football rules. To him, what the framers of the rules intended by expunging of records is the denial of all benefits due the withdrawing club to ensure that it is excluded from the roll of honour at the end of the competition; best player, best goalkeeper, top scoring club, golden boot etc. Mr. Akwetey maintained that the records that are expunged do no extend to liabilities incurred by the withdrawing club during its participation; yellow cards, red cards, fines and other sanctions for crowd violence etc. In other words, if a player or fan of Team A violently assaults, even stabs a referee, should he or his club escape punishment by withdrawing from the competition? That was how Hearts were declared 1990 FA Cup champions.

Bright Akwetey's love for the law is matched perhaps only by his passion for Accra Hearts of Oak. Hearts owe their consistent team building that resulted in the 64 Battalion to Bright's litigation against the then leadership. The ex-Board Secretary had won a judgment against the Ato Awhoi-led Board, and an application by the club for a stay of execution was granted on condition that they could not dispose of any of the club's assets including the players. That is how Bright helped Hearts to preserve its brilliant players by default to go on to conquer Africa in the year 2000. Does he not deserve some applause?

Football is the passion of the nation, it is often said. The life-long devotion to the sport in diverse capacities by so many people across the country lends perhaps the most solid credence to that claim.

Unfortunately, the Alhaji Grusahs, Nanabenyin Eyisons, Abdus Salam Yakubus, Abbey Pobees – humble people with modest means who put their all into the sport – have been betrayed by a few imposters and mercenaries.

It is for these poor folks, the duped, long suffering fans and the numerous sports journalists some of whom I have mentioned here – journalists who get to work at the crack of dawn and stay late to bring up-to-date news to the public – that I have undertaken this "Number 12" assignment.

It is for the sake of more sanity and transparency that I have decided to scrape clean this tainted football system for a fresh start.

The very foundation of Ghana football will collapse in a heap, to be rebuilt by the concerned sports journalists and the honest football people who will remain standing.

Hold your breath for the explosive exposé in the coming days.

By Anas Aremeyaw Anas – award-winning investigative journalist
Source: Anas Aremeyaw Anas