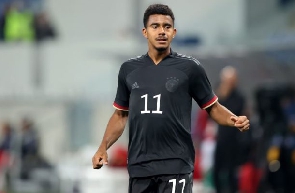 Ansgar Knauff did not play in the match between Eintracht Frankfurt and VfB Stuttgart because of a hip injury. As head coach Oliver Glasner remarked after the game, a lengthy absence of the winger is unlikely to be expected.
"In the case of Ansgar, I'm assuming that he'll be operational again by Wednesday," said Glasner.

In the second leg of the UEFA Champions League on Wednesday, Eintracht Frankfurt takes on SSC Napoli, the current league leader of Italy. It will be exceedingly difficult to accomplish the job with a 0–2 deficit from the first leg.

Knauff has been on an explosive form since joining Eintracht Frankfurt on loan from Borussia Dortmund.
The Germany U-21s international won the UEFA Europa League Young Player of the Season award last season.

According to reports in German Borussia Dortmund will like to have the wideman back in their squad for next season but Eintracht Frankfurt is also interested in making the loan deal permanent.