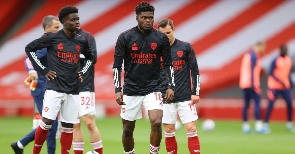 Arsenal legend, Ian Wright, believes Thomas Partey and two other key players must be consistent and fit for the club to be able to win English Premier League.
He noted that Arsenal's chances of winning the Premier League for the first time since 2000, rely heavily on Martin Odegaard, Bukayo Saka and the Black Stars player.

According to him, although it would be difficult for Arsenal to have all three players fit for the rest of the matches, he was confident that it was the surest way for the Gunners to win the league.

"But when you look at the team this season, Saka's done it, Partey's done it, Odegaard has done it.
"Those are the ones if Partey, Odegaard and Saka stay fit – which is going to be very tough – then I think Arsenal have got a very good chance of winning the league", the Arsenal legend stated.

Arsenal are yet to lose a match this season with Thomas Partey in action. The Gunners currently sit top of the Premier League table with 44 points.

JNA/MA