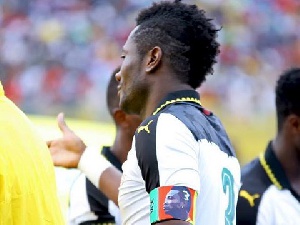 Ghana captain Asamoah Gyan has come to the rescue of the Black Stars by chartering a private jet to fly the players to Accra en-route to their foreign clubs to avoid sanctions after government reneged on its initial agreement, several journalists have reported on Twitter.
The Black Stars, who put up a magical display to defeat Congo 5-1 in the 2018 World Cup qualifiers Tuesday, were facing another long journey back home through commercial routes to Accra.

With their onward journeys to start in Accra and the possibility of returning to their clubs by Friday which could draw fines on the players and also possible loss of their starting places, Gyan intervened to spend his own money to rescue his team-mates.

The 31-year-old is battling a groin but defied all odds to travel with the team to Brazaville knowing very well that his presence will be a spring in the step of his team mates.

The Black Stars who recovered from a catastrophic performance to record an impressive 5-1 victory against the Red Devils of Congo were left raced faced just two hours to the game when a mail came in that government will not be able to fulfill their initial agreement of flying the team back on a chartered flight meaning players would go on a commercial flight and arrive in Ghana on Thursday despite having played the game on Tuesday afternoon.

Top players like Thomas Partey of Atletico Madrid, Afriyie Acquah of Torino and Richmond Boakye Yiadom of Red Star Belgrade who had until GMT 14;00 to report back to their clubs on Thursday were seen visibly worried as it's the start of the season and any sign of indiscipline could affect them at club level.
But Gyan who like Stephen Appiah gave a touching speech before the start of the game in Brazaville assured the playing body that he would pay for a private jet that should airlift them back to Kotoka international airport just 4 hours after the game at the Kintele stadium in Brazaville.

The news was a real booster to a squad that had looked dejected and lost the backing of 25 million fans back at home due to the lethargic performance in the first leg at the Kumasi Baba Yara Sports Stadium.

This is the first time in modern day Ghanaian history that a footballer has decided to use his own hard earned cash to hire a chartered flight for his team mates after a World Cup qualifier.


I gather Asamoah Gyan is paying for a charter jet from Congo to Accra. If team had stayed overnight, wd affect some players club return

— Sports Obama (@SaddickAdams) September 5, 2017