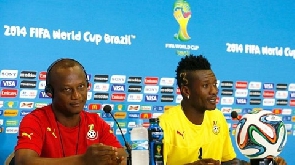 Sammy Anim Addo, a member of the Executive Council of the Ghana Football Association has cautioned former Black Stars coach Kwasi Appiah against resurrecting the infamous captaincy issue that arose after Asamoah Gyan was stripped off the leadership of the team.
Anim Addo who doubles as Gyan's manager holds that the time has come for Kwasi Appiah to let the issue die a natural death and not raise it in public.

"And he Got the RESULTS !!!, Pls Pls Pls , he should keep mute about this issue and allow it the past koraaaa . Tweaaaa," Anim tweeted.

Anim Addo's outburst follows an interview with Joy News in which Kwasi Appiah sought to justify his decision to take the role from Asamoah Gyan and hand it to Dede Ayew at the time he did.

"I respect him a lot. That's the reason why I called him to let him know the decision I was going to take and make him the general captain," he explained.

"I thought he had captained the team for eight years and I felt he had done more than enough for Ghana. I told him to join me and let us handle the team.
"He didn't agree but if you don't do what is right, that is my belief, if you are not sincere to yourself and try to massage issues because this is my friend or this is my son, you'll never get results or you'll not be successful in what you want to do.

"For me, that tournament, that's the more reason why I took him," he stated.

Kwasi Appiah rocked an otherwise steady boat after he announced Dede Ayew as the captain less than a week before the 2019 Africa Cup of Nations.

In a recent interview, Asamoah Gyan also explained why he was furious with the decision by Kwasi Appiah.

"Of course, I didn't agree but if you think you've taken the decision, why do you call me to apologise? My team met his team at Holiday Inn. They spoke to me and apologised and told me not to be angry. Why do you have to apologise if it's your decision? If it's the right decision, why do you call my team and sit down to talk about it? Why? If it's because of the relationship we had then I understand," he told Dan Kweku Yeboah.
The former Sunderland striker further explained that he got angry because the timing was wrong and the explanation given was incoherent.

"He gave me the captain. He flew to Dubai but when he wanted to take the armband back, it wasn't the right time. He had to give me a tangible reason. Somebody was the captain before me and I don't have a problem with coach (Kwasi Appiah) but I felt the timing was wrong. And also the explanation for the reason why he did that wasn't coherent. That was why I got angry."

Gyan revealed that he suggested being left out of the squad but Kwasi Appiah declined.

"I told him I was angry and suggested that he leaves me out of the squad so that he could work with a sound mind. He told me I should rethink it because I'm in his plans."


And he Got the RESULTS !!!, Pls Pls Pls , he should keep mute about this issue and allow it the past koraaaa . Tweaaaa https://t.co/9g4NrRwfpX

— Sammy Anim Addo (@AnimSammy) January 26, 2023