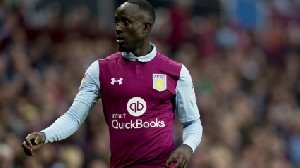 Aston Villa winger Albert Adomah is indebted to the support the famous BBC commentator John Motson gave him when he was making his name at Barnet.
Motson is retiring after commentating on 10 World Cups, nearly 200 England matches - and winning a secret battle with bowel cancer.

Adomah revealed to the Birmingham Mail that Motson once sponsored him when he was playing for Barnet.

He explained: "I was sponsored by John Motson, the Match of the Day commentator.
"That's his local side, Barnet.

"When I used to play for them he sponsored me because he liked me and I think he wanted to contribute to his local side."