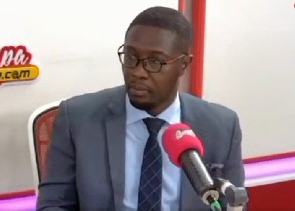 Popular Ghanaian broadcaster, Collins Atta Poku, has scored Ghana Football Association president, Kurt Okraku led administration below average after their first term in office.
His rating is in reaction to the president's statement that his administration has over achieved in their first spell.

The renowned journalist acknowledged that Kurt had done a fine job before highlighting the success Ghana had before the former Dreams FC chief assumed the GFA seat in 2019.

"He's been okay,(but) there's been nothing special. The context is important and I am happy everyone is referring to it. I want to ask something...by the time Kurt was elected as president, the Black Princess had qualified for the World Cup in France, Kotoko had played Zesco and other teams in Africa (Caf Champions League), (and) they qualified for the group stage after the Normalization Tournament. The first tournament under Kurt's regime was the U-23 AFCON in Egypt. So the narrative that, the system had crumbled before the man came, is not all that true.

"We were in the process of normalizing everything. We didn't qualify for the World Cup in Russia but we qualified for the World Cup in Qatar. The standard for Ghana is qualifying and making it out of the group stage. We set up a commission of inquiry in 2014 because we didn't go past the first round. So if you go to the World Cup and do not perform, that is nothing, in all honesty...

"Under Kwesi Nyatkyi, the under-17 team was banned because of Isaac Twum and other guys. Our under-17 women's team was banned too, what happened? Oduro Nyarko said journalists in this country are to be blamed. I mean how is this possible? You used players who were over-aged and the problem is journalists?" he said in an interview on CitiTV.
He admitted that Kurt has done an incredible job with regard to the business side of football by securing sponsors.

"On the business side, he's done fairly well. We were playing league without a sponsor. We asked Kwesi Nyantakyi he said there are sponsors but we don't have a headline sponsor. Kurt managed to get BetPawa for us. They are the headline sponsors. Access Bank Divison One league, headline sponsor.

"Malta Guinness Women's Premier League, headline sponsor. On that front, you just have to give it to my guy. He's done pretty well. But our national teams, we had our worst AFCON under him. We were up in hands with Normalisation Committee for what happened in Egpyt in 2019. But in Cameroon, it was terrible. so things must change there," he said.

Atta Poku further pinpointed the downside of the administration, adding that Kurt claiming he has overachieved is farfetched.

"...Black Queens hosted the AFCON here (but) we couldn't make it out of our group. Under Kurt, we've not been able to qualify for the main tournament itself. So there is a worry. It was Kurt and this regime that supervised 'bet' league in Ghana. For the first in our history, players, owner, and team officials have all been caught betting. Ashanti Gold and Inter Allies are there, so how do you forget about that?... Yes, he has done okay. He has stabilised the ship but to say he has over-archived that is farfetched, I'm sorry," he added.
When asked to rate the administration per his argument, he said: "4/10, 40/100."

Kurt Okraku, in his interview with SuperSports, stated that he has overachieved if he if to tick his success according to what he promised in his manifesto.

"I will not even want to look at the manifesto because if it is about ticking the boxes, ie, on the provisions on the manifesto, we have achieved. But I think we have done more beyond the manifesto. Some of the things that we have been able to deliver to our football people has been special and amazing", Kurt told SuperSports.

The former MTN FA Cup chairman's four-year first term mandate expires in October 2023, as he seeks a second term in office, and believes his yet-to-be-done first term has been successful.

EE/OGB