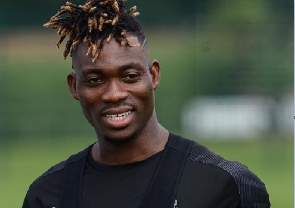 In the aftermath of the devastating earthquake that affected 10 provinces in Turkey, including Hatay, authorities have discovered the apartment of Hatayspor football player Christian Atsu.
The Renaissance Residence, where Christian and the team's sporting director Taner Savut lived, was among the buildings that were destroyed by the quake.

As the search and rescue efforts continue, Christian's brother Isaac Twasam, their manager Murat Uzunmehmet, and Nana Sechre are waiting for news at the site of the collapsed building.

The authorities have confirmed that Christian was on the ninth floor when the earthquake struck, and the building was destroyed.
Miners are working tirelessly to reach the ninth floor, where Christian is believed to be trapped, from the eighth floor block.

The search and rescue teams are facing a challenging task, but their determination and bravery give hope to those who are waiting for news.

The rescue teams are working non-stop to bring those who may be trapped to safety. The discovery of Christian's apartment has renewed hope for a positive outcome, and everyone is praying for the best.