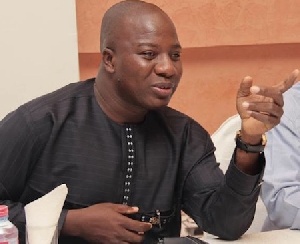 Sports Minister Mahama Ayariga has revealed that he shuttled between Ghana and Equatorial Guinea four different times during the entire period of the just-ended Africa Cup of Nations hosted by the oil-rich Central African country.
Responding to criticisms by former Ghana Football Association (FA) President, Dr Nyaho Nyaho-Tamakloe about why the minister pitched camp in Equatorial Guinea during the tournament, a laughing Ayariga said: "I was actually going in and out."

"People thought I was there the entire period, but I was in and out," the former Information Minister told Kwadwo Asare Barfour Acheampong (KABA) on Asempa FM's Eko sii sen political programme on Tuesday.

Explaining the reasons for his shuttles, Mr Ayariga said: "I was coming in here to perform my administrative functions, take decisions with my technical people, okay decisions. I went to Equatorial Guinea [for] about four times," he emphasised.
He added: "You know there is a direct flight two hours from here."

"It's like going to Tamale by Antrak, so there was absolutely no need to be there the entire period. So I was coming in and going. I was actually not in Equatorial Guinea when the first match was played. I felt the pressure so I had to get off the following day. I was actually hospitalised. I was on admission and I just left the hospital….I watched the match from my hospital bed," he said.

Ghana came second in the tournament after they were beaten 9-8 by the Elephants of Ivory Coast in the final match of the continental showpiece.