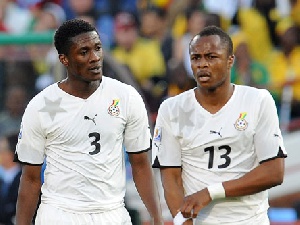 Ghana duo Andre Ayew and Asamoah Gyan say even though the Black Stars players want to die for their nation, they deserve to be paid their dues for rendering services as professionals.
Several issues have been made about how the Black Stars boycotted training sessions at the 2014 World Cup in protest of the delayed payment of their appearance fees.

While some believe the players unduly held the nation to ransom over monies that would have been paid to them anyway, others believe their actions showed clearly they play solely for the money.

Some have even drawn comparisons of how some teams at the World Cup, in particular Greece and Algeria reportedly donated part of their earnings to charity.

Some players of the victorious Germany team were also reported to have given their earnings from the World Cup away to charity.

These comparisons drawn appear to show how 'selfish' the Ghanaian players were to pocket the whole $100,000 payment received by each player for showing up at the tournament staged in Brazil despite crashing out after just the first round.
But Andre Ayew says these comparisons are misplaced as most of the Ghanaian players aside making constant donations to charity on the quiet, use most of their earnings on a larger number of people they consider as family.

"Which teams gave all their bonuses out to charity?" the Olympique Marseille star said in response to a question at a Black Stars press soiree on Wednesday.

"Bonuses for any Ghanaian player is deserved. We love our country but we are also working.

"It is our job. Do you know what we have done for people in Ghana?

"We don't need to make these things public, we do it from our hearts.
"We do charity all the time and sometimes not even monies we get from the Black Stars.

"Money is not football and football is not money. Charity or giving out are things we do and we don't not need to come out and tell everyone what we do.

"The monies in any case are spent in Ghana. The earnings from our clubs are used in Ghana.

"Whether we buy land or use it on our family, it stays in Ghana."

Captain Asamoah Gyan backed the comments made by his international teammate by adding: "We don't take the money just for pleasure.
"We use it on our families and in Africa our friends are part of our families.

"Unlike Europe where a family is just a man, his wife and kids but in Africa it is different.

"I have a company in Ghana and pay 200 workers. I pay tax.

"We bring cars into this country and the duties we pay are sometimes even bigger than the $100,000."