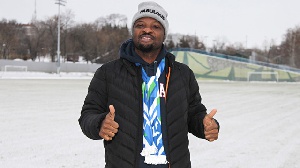 Former Ghana international Baba Adamu Armando has visited his ex-club Krylia Sevetov Samara in Russia.
The mercurial Armando attained cult status at Krylia Sovetov helping them to secure a place in the 2005/2006 Uefa Cup and also scoring the competition's goal of the season against Dutch outfit AZ Alkmaar with an extravagant bicycle kick on September 15, 2005.

Baba was taking round the club and held meetings with the top President, coaches and other top members.

"I am happy to be here again, it was a great visit and it brings nostalgic memories. This was my first club in Europe and I made my mark," Baba told footballmadeinghana.com
"The fans are amazing, and they are one of the best. I wish the club good luck in the ongoing premier league,"

Baba is one of the highly respected African players in Russia having played for Krylia Sevetov, Locomotive Moscow and others.