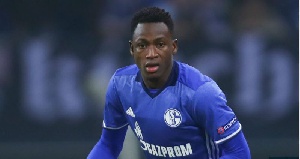 Ghana international Abdul Rahman Baba has praised the output of his Schalke team following their 1-0 Champions League win over Locomotive Moscow on Tuesday.
Baba replaced Hamza Mendy in the 16th minute as the German side won by a goal to nothing at the Veltins Arena in Gelsinkirchen.

The talented left-back was happy with the outcome of the game as he stated that they got the results they needed which will serve as a morale booster ahead of the crunch game against his former club Augsburg on Saturday.
"The lads were amazing last night and the victory is just what we needed ahead of the weekend must-win game. Can't describe how happy I am to be able to play football again. Come on Schalke. #ChampionsLeague #Schalke04." Baba tweeted.

Schalke finished second in Group D with eleven points.